You've long heard that the best way to market a book is "word of mouth," but with the rise of digital publishing and e-commerce platforms like Amazon, traditional marketing methods now have much more reach than ever.
But one major challenge for authors remains: how can writers get their books seen by potential buyers to increase sales? The answer could be free book promotions, which are cost-effective ways to boost visibility on online marketplaces and draw attention to your book.
In this post, we will discuss exactly how you can use promotions on Amazon KDP to drive more sales for your books. Let's dive into it!
Understanding The Benefits Of Amazon's KDP Select Program
Amazon's Kindle Direct Publishing (KDP) Select Program is an excellent platform for authors to create and distribute their work. The program offers various benefits, including increased visibility and the ability to create a strong brand.
Here are five key benefits of the KDP Select program:
1. Global Reach
With KDP Select, authors have the opportunity to reach readers anywhere in the world. It allows an author's work to be seen globally, increasing the chances of connecting with more readers.
2. Promotions
Through KDP Select, authors can enroll their book in Kindle Countdown Deals, Free Book Promotions, and the KDP Select Global Fund. By leveraging these promotional offers, authors can reach larger audiences and create a buzz for their work.
3. Exclusivity
KDP Select also offers exclusive benefits that come with an enrollment commitment. Authors can enroll their book in KDP Select and benefit from Kindle Unlimited (KU). Through programs, authors can gather more page reads and gain visibility on the kindle store.
4. Advanced Reporting
Amazon Kindle Direct Publishing Select provides comprehensive reports that measure reader's reactions to an author's work. These reports are essential in understanding readers and their preferences, as they help authors create better content that resonates with their target market.
5.Building a Brand
The KDP Select program also benefits authors interested in building a solid brand name. With the platform, writers can create a strong author brand, boost their recognition within the kindle store, and create more visibility for their books. Additionally, authors can leverage KDP Select's promotional offers to gain additional exposure and make a name for themselves in the kindle space.
The Role Of Book Bundles In Driving Sales And Increasing Profits on Amazon
Bundling multiple books together gives customers more value per purchase, creating a win-win situation for both the seller and the customer. When done correctly, bundling books can be a powerful tool for increasing book sales on Amazon.
Book bundles allow sellers to create custom packages that include titles tailored to their customer's needs, increasing the likelihood of a sale. Furthermore, bundling books together makes a more considerable profit margin than selling each title individually.
A well-crafted bundle of related titles can help introduce these customers to your store, encouraging them to make future purchases. Finally, book bundles can help you stand out from the competition by providing a unique selection of unavailable titles elsewhere. By using book bundles and other strategies to boost Amazon book sales, sellers can increase profits in an effective way.
That said, if you need help in marketing endeavors, you can enlist the help of a book advertising company such as Book Writing Cube. Our professionals can help you create a buzz around your book and expand its reach to more readers.
Strategies For Using Free Promotions Effectively On
Free promotions are an invaluable tool for authors selling on KDP. However, they can be a double-edged sword if not used correctly.
Here are some strategies to ensure your promotions are as effective and successful as possible: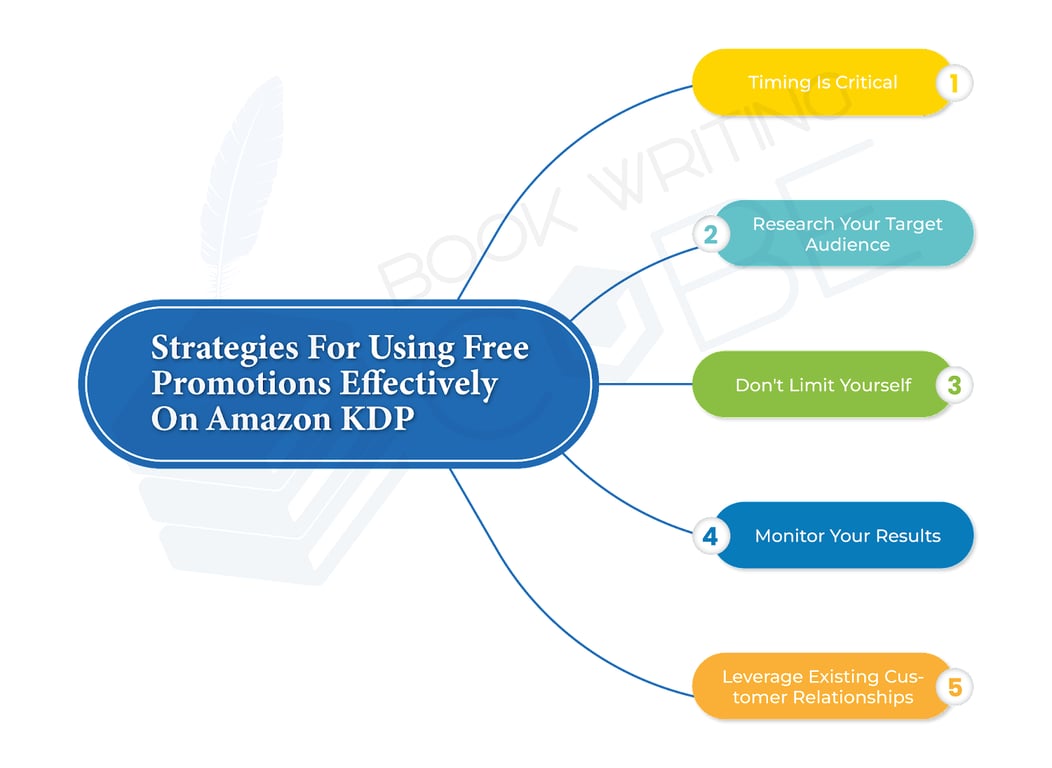 1. Timing Is Critical
Launch your free promotion at the optimal time and maximize its effect by carefully scheduling it for maximum visibility. Also, remember that if you run multiple promotions at once, the cumulative impact will be greater than the sum of its parts, so plan accordingly.
2. Research Your Target Audience
Book marketing services often create a list of potential readers who would benefit from your book and direct promotional efforts at them. They consider factors such as geography, age, and interests to ensure you're reaching the right people.
3. Don't Limit Yourself
Don't be afraid to think outside the box and explore other promotional channels such as social media or email. Promotions may be more effective when combined with traditional advertising methods.
4. Monitor Your Results
Use Amazon KDP's analytics tools to track the success of each promotional campaign and make any necessary adjustments.
5.Leverage Existing Customer Relationships
A book marketing company contacts customers who have previously purchased a book from you and provide them with an exclusive offer for their loyalty. It will help build brand loyalty and encourage more sales in the future.
Following these strategies will help ensure your promotions on KDP are as effective and successful as possible. With the right approach, you can maximize the impact of your promotions and achieve tremendous sales success.
Maximizing The Impact Of Free Promotions
Free book promotions on Amazon can be an effective way to increase the exposure and sales of your book. To ensure a successful promotion, it's crucial to have a guide to effective book marketing that will assist you in making the most of your efforts.
To get the most out of free book promotion campaigns, authors should carefully consider the timing and duration of their promotional activities. It is also essential to track your campaign's results and adjust accordingly to ensure that you're optimizing each campaign for maximum success.
Following these tips will guide authors through an effective promotional process, providing them with a roadmap for successful book marketing on Amazon.
Final Words
By offering promotions on Amazon, you can drive book sales and also reach new readers. Be strategic in your giveaways, and make sure to take advantage of popular days like Free Friday. If you plan your freebies well, you'll see a big boost in downloads—and maybe even some newly dedicated fans.
However, if you are in a quest for a professional book promotion service, get in touch with Book Writing Cube today. We can generate a buzz about your book and help you tap into a wide range of audience.