By BWC Team in 2023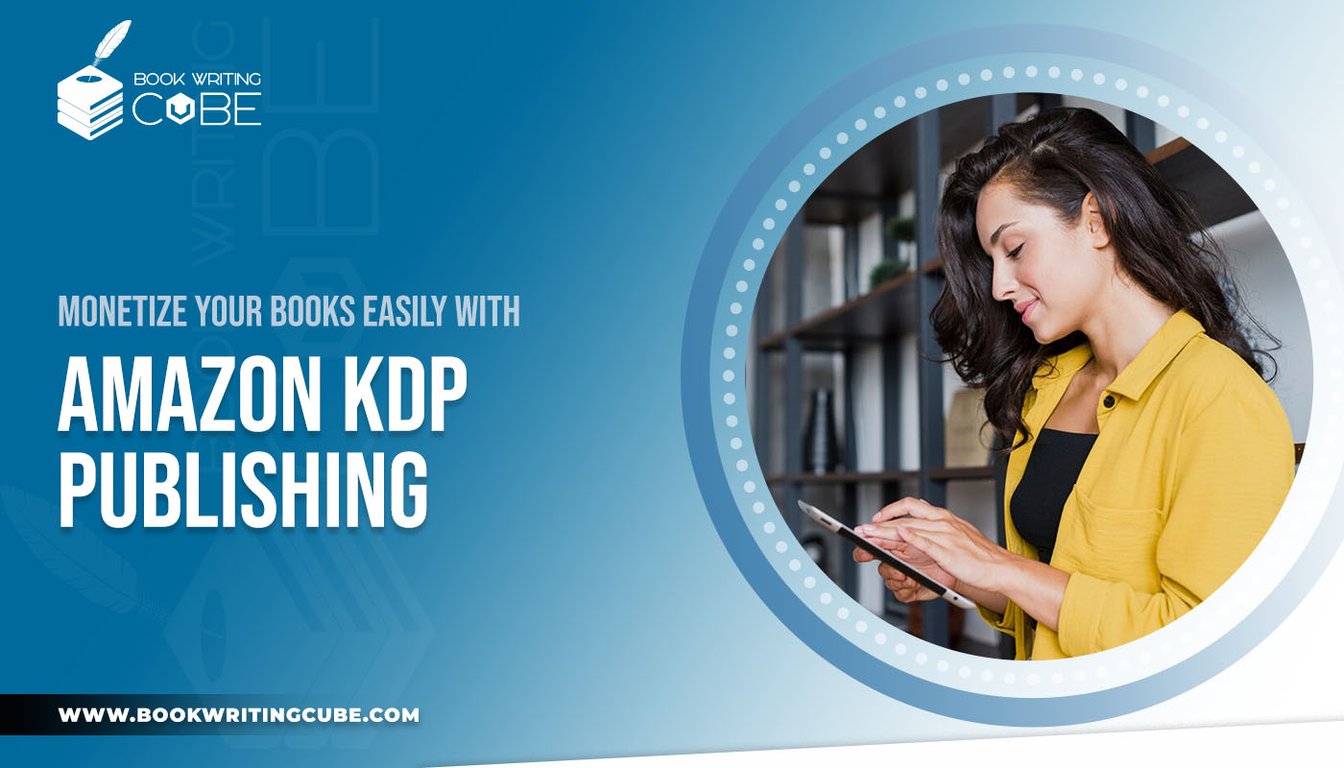 In today's digital era, where opportunities to earn income through creative pursuits are abundant, writers can harness their skills and turn their passion into a profitable venture. This introduction explores the exciting realm of monetizing writing skills with Amazon KDP Publishing. Writing has always been a powerful means of self-expression, and now, with the emergence of self-publishing platforms like Amazon KDP (Kindle Direct Publishing), authors have an unprecedented opportunity to reach a global audience and generate revenue from their literary works.
This blog delves into the importance of monetizing writing skills and provides an insight into the world of Amazon KDP Publishing, empowering aspiring authors to embark on a journey of financial success and creative fulfillment.
Understanding Amazon KDP Publishing
Amazon KDP (Kindle Direct Publishing) is a self-publishing platform that allows writers to monetize their skills by publishing and selling their books on Amazon.
Here is a concise overview of Amazon KDP and how it works:
What is Amazon KDP?
Amazon KDP is an online platform that enables authors to self-publish their eBooks and paperbacks. It provides a simple and direct way to bring your writing to a global audience
Benefits Of Using Amazon KDP For Publishing
Global Reach
Amazon has a vast customer base, providing access to millions of potential readers worldwide.
Control And Independence
As an author, you retain full control over your work, including pricing, cover design, and content updates.
Royalties
Amazon offers competitive royalty rates, allowing you to earn up to 70% royalties on eBook sales and up to 60% on paperback sales.
Getting Started with Amazon KDP Publishing
To monetize your writing skills through Amazon KDP Publishing, follow these essential steps:
Create an Amazon KDP Account:
Go to the Amazon KDP website and click on "Sign up."
Fill in the required information, including your name, email address, and password.
Read and accept the terms and conditions to proceed.
Prepare Your Manuscript For Publishing:
Ensure your manuscript is properly edited and proofread.
Format your book according to Amazon KDP guidelines.
Convert your manuscript to Kindle format (eBook) or prepare the paperback version.
Design an eye-catching book cover that accurately represents your content.
Formatting and Designing Your Book
Once you have written your manuscript, the next step in the self-publishing journey is formatting and designing your book. Proper formatting and an attractive book cover play a significant role in attracting readers and boosting sales. In this section, we will explore the key aspects of formatting and designing your book for publishing on Amazon Kindle.
Choosing The Right Book Format
Before diving into formatting, it is essential to choose the appropriate book format for your work. Amazon KDP supports various formats, including Kindle Direct Publishing (KDP) eBook format, paperback format, and audiobook format.
For eBooks, the most common format is the Kindle eBook format. This format is specifically designed for reading on Kindle devices and Kindle apps. It provides a seamless reading experience with adjustable font sizes, and other interactive features.
Formatting Your Book for Kindle
Proper formatting is important to ensure that your eBook appears professional and is easy to read.
Here are some key considerations when formatting your book for Kindle:
Use Consistent Formatting
Maintain consistency throughout your book by using the same font, font size, and formatting style for headings, paragraphs, and other elements.
Pay Attention To Readability
Choose a legible font and an appropriate font size. Avoid using fancy or overly decorative fonts that may make reading difficult.
Break Text Into Chapters And Sections
Organize your content into chapters and sections, making it easier for readers to navigate through the book.
Uploading and Publishing Your Book
Uploading Your Manuscript To Amazon KDP
When it comes to monetizing your writing skills through Amazon KDP Publishing, the first step that Amazon KDP publishers do is to upload your manuscript to the platform.
Follow these steps to ensure a smooth and successful upload process:
Sign in to your Amazon KDP account: Access your Amazon KDP account by visiting the official website and logging in using your registered credentials.
Create a new Kindle eBook: Click on the "Create a new Kindle eBook" button to initiate the book creation process.
Enter book details: Fill in the required information such as the title, subtitle (if applicable), series (if applicable), and author name. Provide a compelling book description that entices potential readers to explore your work.
Choose a language and book contributors: Select the primary language of your book, and if applicable, add contributors such as editors, illustrators, or translators.
Upload your manuscript file: Prepare your manuscript in a compatible file format (such as .doc or .pdf) and upload it to Amazon KDP. Ensure that your manuscript is properly formatted, proofread, and free of any errors.
Set up your book's content: Configure options like copyright information, table of contents, and formatting details. Pay attention to formatting guidelines provided by Amazon KDP to ensure a professional-looking eBook.
Setting Book Details And Pricing
Once your manuscript is uploaded, it's time to set the book details and pricing for your eBook. Follow these steps to optimize your book's visibility and profitability:
Choose The Appropriate Categories And Keywords
Select relevant categories and keywords that accurately represent your book's genre and content. This helps readers discover your book when browsing specific categories or conducting searches on Amazon.
Set The Book's Pricing
Determine the price of your eBook by considering factors such as book length, genre, competition, and market trends. Amazon KDP allows you to set both the eBook's list price and the promotional price during Kindle Countdown Deals or Free Promotions.
Enroll In Kindle Select (Optional)
Kindle Select is an exclusive program that offers additional promotional opportunities, including Kindle Unlimited and Kindle Owners' Lending Library. Evaluate the benefits and drawbacks before deciding to enroll your eBook in Kindle Select.
Promoting Your Book on Amazon
Amazon is not only the largest online marketplace for purchasing books but also offers various promotional tools to help authors gain visibility and boost book sales. When it comes to promoting your book on Amazon, there are several effective strategies you can employ.
Key Takeaways
Monetizing your writing skills has never been easier with Amazon KDP Publishing. Whether you are an aspiring author or an experienced writer, Amazon KDP (Kindle Direct Publishing) offers a powerful platform to turn your words into profit. With its vast reach and global customer base, Amazon provides unparalleled opportunities for self-published authors to showcase their work and generate income.
With the expert guidance and comprehensive resources of Book Writing Cube you can easily monetize your ebook on Amazon KDP. Call us now!