Are you an author looking to take your Kindle Direct Publishing (KDP) profits to the next level? If so, look no further. This blog post will walk you through effective book marketing strategies.
Not only this, but this comprehensive guide will help you maximize your results with minimal effort. With just a few simple steps, adapting these practices can give any author an edge in today's competitive publishing landscape. Read on to find out more!
The Importance Of Book Marketing For KDP Success
Every author needs to consider how to market their book effectively to maximize KDP profits. Thus, here are some key reasons why marketing is essential for Amazon KDP's success:
1. Increase Visibility
Amazon Kindle Direct Publishing has millions of books, making it difficult to stand out from the competition. Book marketing helps increase visibility and drive more readers to your book. Whether you use Amazon Ads, run social media campaigns, or work with influencers, effective book advertising strategies can help your book become more visible on KDP.
2. Boost Sales
Book marketing is a great way to boost KDP sales. When Amazon's algorithms see that your book is being promoted and generating buzz, they may push it higher in search results – increasing the chances of your book being seen by prospective readers.
3. Drive Reviews
Amazon relies heavily on professional book reviews, as they are a significant factor Amazon takes into consideration when deciding where to place your book in the search rankings. Book marketing can help you reach more readers and drive reviews, which Amazon Kindle Direct Publishing uses to determine how prominently it should display your book.
4. Generate Interest
Amazon KDP is a crowded marketplace that requires authors to stay creative with their book marketing strategies. You need to find ways to generate interest in your book and build a dedicated readership, which can be done through marketing. From Amazon Ads to email campaigns, there are many different tools you can use to create excitement around your book and increase Amazon Kindle Direct Publishing sales.
Having said that, if you need help marketing your book, you can always enlist the help of a professional book marketing service such as Book Writing Cube. Our professionals can walk you through every marketing maze step and help you accomplish your goals.
The Role Of Advertising, Free Promotions, And Book Bundles Through
Advertising, free promotions, and book bundles through Amazon KDP offer authors a range of opportunities to effectively reach more readers around the world.
Advertising campaigns can be used to target specific markets and demographics, while free promotions allow authors to distribute their books for no cost - helping them reach a wider network of potential readers.
Additionally, bundling multiple titles together provides authors with a cost-effective way to increase sales and visibility for their work. All three of these methods can be used in combination to create an effective strategy for improving book sales and reach.
As such, KDP offers authors a range of tools to maximize their success in the competitive publishing world.
Maximizing Book Exposure And Visibility On Amazon: 5 Pro Tips
Maximizing book exposure and prominence on Amazon is essential to gaining readership, increasing book sales, and furthering your career as an author. In today's digital age, making sure your book stands out from the pack can be challenging. With some strategies, you can leverage the power of Amazon's platform to maximize book exposure and visibility.
Here are some strategies to boost book sales and maximize exposure on Amazon: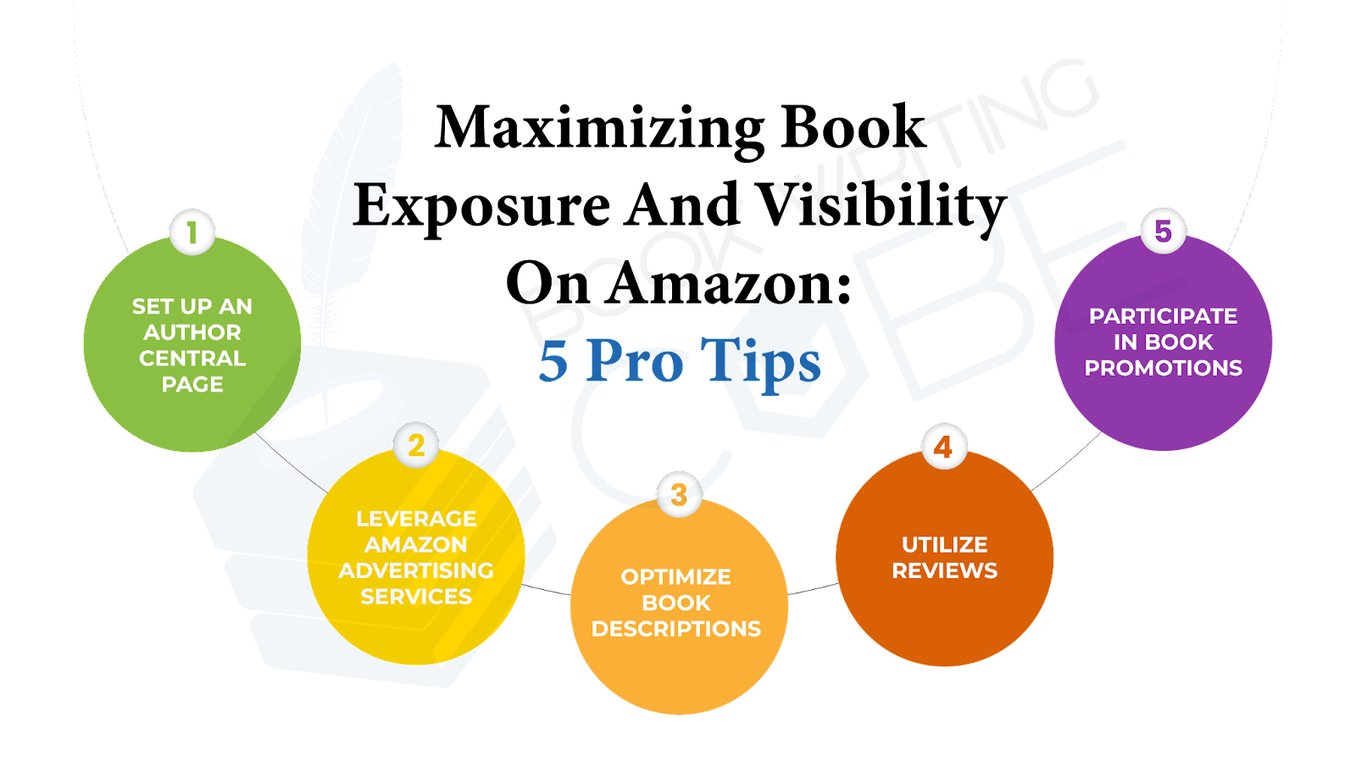 1.
Set up an Author Central Page
Setting up an Amazon Author Central page is a great way to get started with promoting your book on the platform. Your Author Central page will be a hub for all your book listings and will include a bio, author photo, videos, blog posts, and more. It is essential for increased visibility as it allows readers to learn more about you as an author and increases the chances that potential buyers will notice your book.
2.
Leverage Amazon Advertising Services
Amazon offers various advertising services, such as Sponsored Products and Product Display Ads. These are all great ways to promote your book on Amazon and increase its visibility. With these services, you pay for ads targeting your book's potential buyers. It can be an excellent way to generate more sales and get the word out about your book.
3. Optimize Book Descriptions
When it comes to book visibility on Amazon, one of the most important elements is your book description. Your book description should be informative yet concise and include relevant keywords to help readers find your book. Take some time to research and ensure you have all the necessary information to attract potential readers.
4. Utilize Reviews
Product reviews are an essential part of Amazon's algorithm when it comes to book sales. Make sure to encourage your readers to leave reviews, as this can help increase your book's exposure on the platform.
5. Participate in Book Promotions
Amazon offers a variety of promotion options that can help you to increase sales. You can participate in monthly book promotions, such as Kindle Countdown Deals which offer great strategies to boost book purchases and gain more readers.
That said, are you looking for the best book marketing services to promote your work? Look no further than Book Writing Cube! Our experienced professionals will strive to maximize your book's visibility and help you achieve tremendous success.
Final Words
Making sales on Amazon is all about marketing your books effectively. By utilizing the tools and resources that Kindle Direct Publishing makes available to you and following some best practices for book marketing, you can maximize your profits and reach a broad audience of potential readers. You can turn your KDP account into a profitable business with a little effort and creativity.
That said, if you are looking for the best book marketing company to help you with marketing endeavors, look no further than Book Writing Cube. We implement amazon book marketing services to increase your readership and maximize profits. Contact us today, and let us start working towards achieving your goals.