By BWC Team in 2023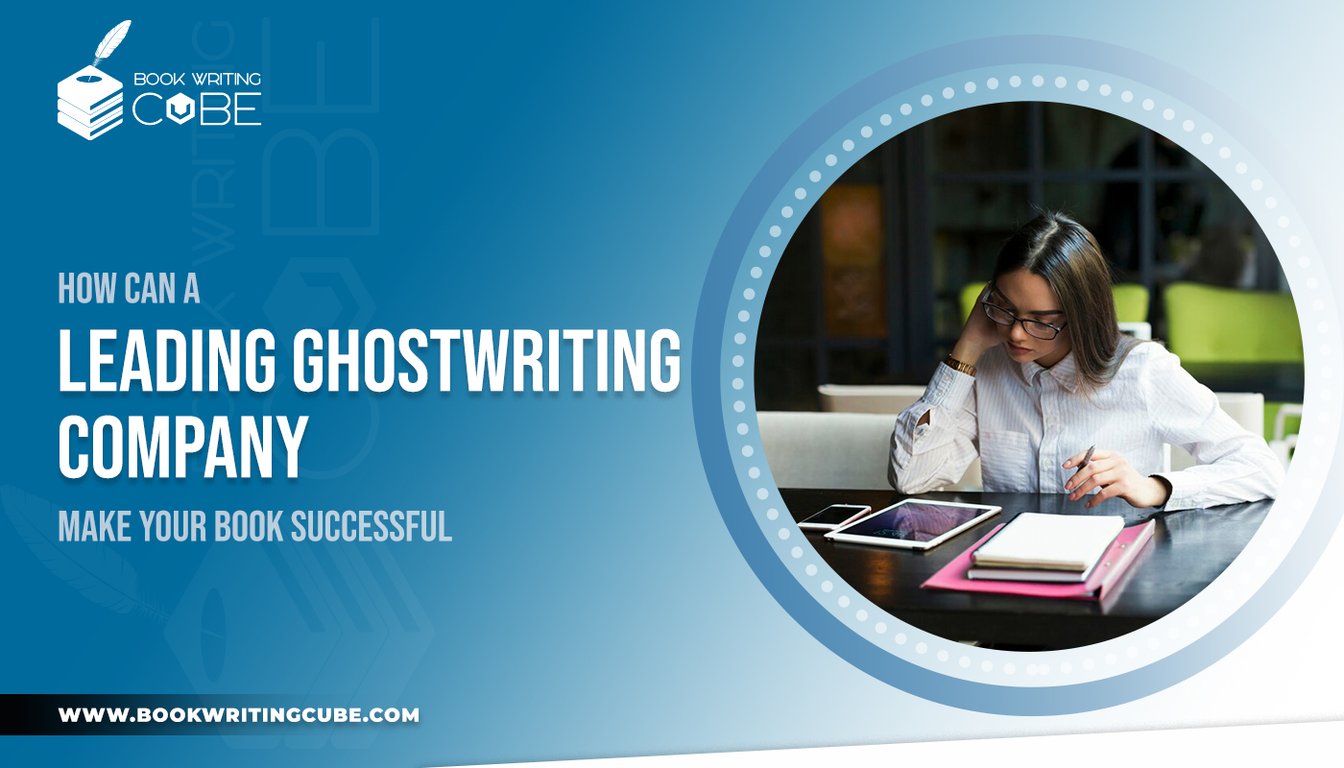 Ghostwriting is a service that can help individuals turn their ideas and stories into professionally written books. With the help of experienced writers and editors, a leading ghostwriting company can create engaging and informative books that save time and effort. If you are unsure how to turn your great ideas into gripping stories, consider letting the experts help you achieve your dream of becoming a published author.
The Role of Ghostwriting in Success
Success In Various Contexts
Success in various contexts includes achieving financial goals, becoming a bestselling author, or establishing a significant digital presence. From a business perspective, success may involve expanding a company's reach, while in publishing; it may involve becoming a bestselling author or receiving critical acclaim. Regardless of the definition, having a clear goal is important before starting a ghostwriting project.
How Ghostwriting Contributes To Achieving Success
Ghostwriting is important for achieving success in your chosen field. By working with a leading ghostwriting company, you can create high-quality content that resonates with your target audience, building credibility, establishing your brand, and increasing reach. It also saves time and effort, allowing you to focus on other important aspects of your business or personal life.
Qualities of A Leading Ghostwriting Company
Expertise And Experience In Various Writing Genres
A leading ghostwriting company should have a team of writers with diverse writing genre expertise, capable of handling various projects like memoirs, business books, and fiction novels. They should have a deep understanding of the tales of each genre, such as tone, style, and voice, to create content that resonates with readers.
A Diverse Team Of Skilled Writers
A leading ghostwriting company requires a diverse team of skilled writers from various backgrounds and writing styles to ensure well-written, authentic, and engaging content. This team should match each project with the best writer for the job, ensuring the best possible outcome.
Strict Quality Control And Editing Processes
Strict quality control and editing processes are important for a leading ghostwriting company. They should have a team of editors who review each project rigorously, checking for accuracy, style, and grammar. This ensures that the final product is error-free and meets the highest standards of quality.
Excellent Communication And Client Collaboration
A top ghostwriting company should prioritize excellent communication and client collaboration. They should have a transparent process from consultation to project delivery, be responsive to client feedback, and be open to revisions to ensure the final product meets the client's expectations.
Benefits of Hiring a Leading Ghostwriting Company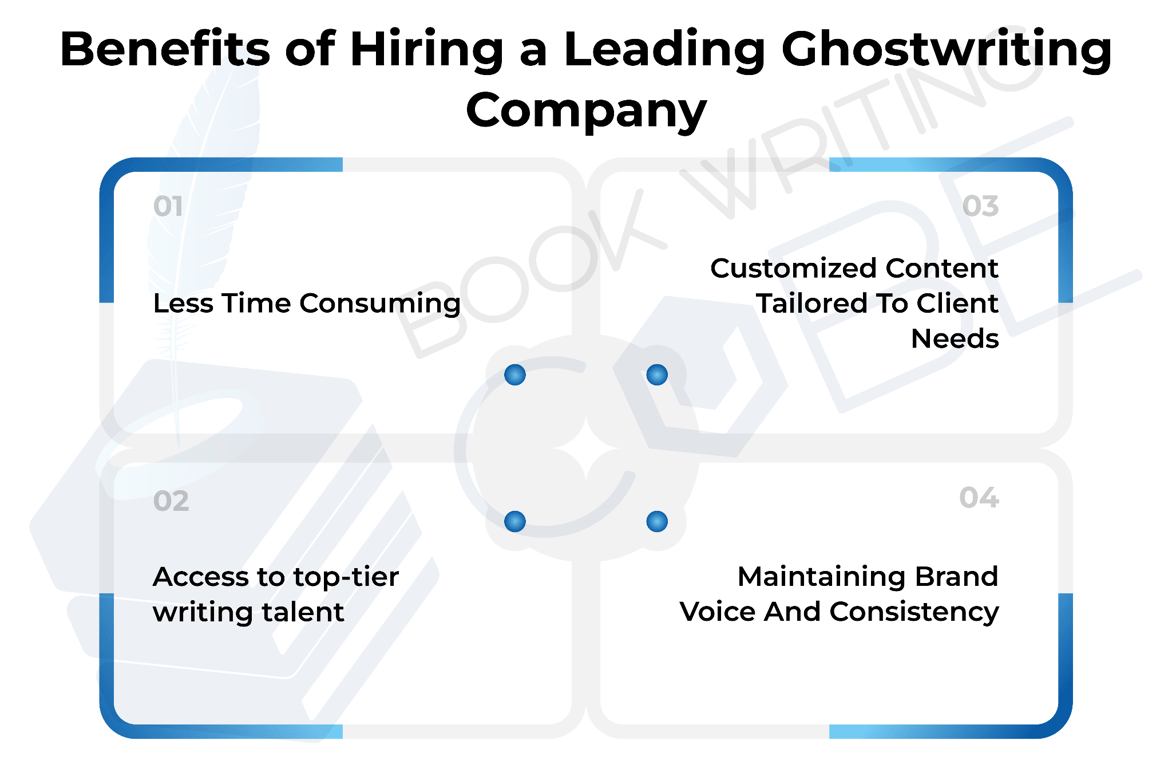 Following are the utmost important benefits of hiring a leading ghostwriting company:
Less Time Consuming
Hiring a top ghostwriting company saves client's time, as writing books or website content can be time-consuming, especially for those without experience. By allowing clients to focus on other tasks, ghostwriters handle the writing, ensuring a more efficient and effective process.
Access To Top-Tier Writing Talent
Hiring a leading ghostwriting company offers clients access to top-tier writing talent, as these companies employ experienced writers who can create high-quality, engaging, and informative content that meets their needs, ensuring that the content is well-written and informative.
Customized Content Tailored To Client Needs
A top ghostwriting company offers customized content tailored to the client's vision and goals. The writers collaborate closely with clients to ensure the final product is unique and specific to their brand, ensuring the final product aligns with the client's vision and goals.
Maintaining Brand Voice And Consistency
Maintaining brand voice and consistency is another benefit of hiring a leading ghostwriting company. The writers are skilled at matching the client's tone, style, and voice, ensuring that the content is consistent with the brand's message. This helps to create a strong brand identity and build trust with the audience.
Industries and Professions That Can Benefit from Ghostwriting
Mentioned below is the table highlighting industries and professions that can benefit from ghostwriting, and how:
Profession/Industry
Benefits Of Ghostwriting
Business Executives And Entrepreneurs

● Enhances professional image and leadership

● Consumes less time while creating content

● Provides better quality content written content

Authors And Publishing Professionals

● Accelerates book completion and publication

● Ensures consistent writing style

● Expands authors profile and reach

Influencers

● Helps maintain a consistent online profile

● Facilitates engagement with an increased reader base

● Provides fresh, relevant content regularly

Public figures and celebrities

● Manages public image and messaging effectively

● Addresses media and fan demands for content

● Sustains a positive and engaging social media presence

● Enables measured communication with the public
Key Takeaways
A leading ghostwriting company can help you achieve your requirements by providing high-quality content that resonates with your audience. By conducting thorough research, identifying your specific needs, requesting samples and references, and evaluating pricing and contracts, you can find a reliable and trustworthy company that can help you bring your vision to life.
If you are ready to move up the ladder with your exceptional writing, consider hiring a leading ghostwriting such as Book Writing Cube today. Call us and get it all!