By BWC Team in 2023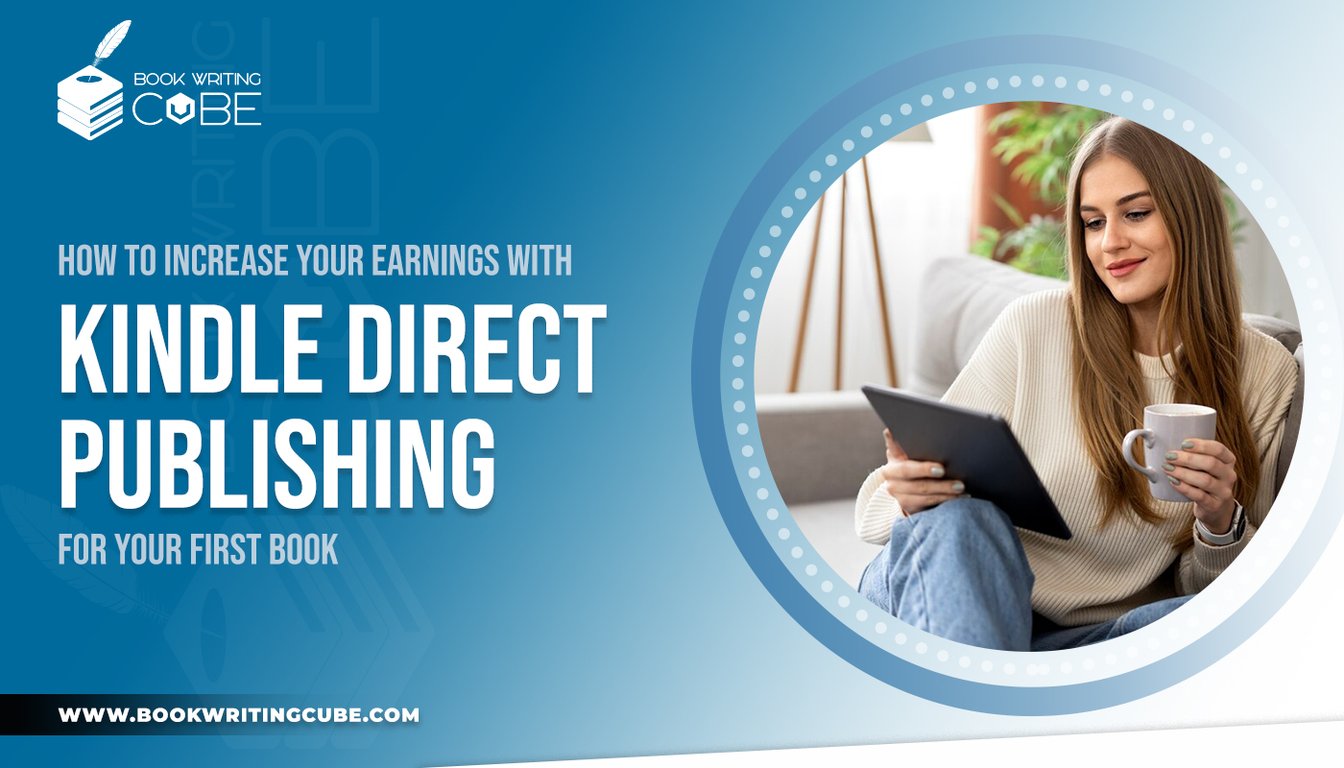 Kindle Direct Publishing (KDP) is a platform that empowers authors to self-publish their work and maximize their earnings. In this blog, we will explore the various strategies and techniques to help you succeed with KDP and generate substantial revenue from your debut book.
Following are some of the ways that explain how to maximize your earnings with Kindle Direct Publishing through your debut book:
Preparing for Success
Writing and Polishing Your Debut Book
To maximize your earnings with KDP, it's crucial to invest time and effort into creating a high-quality book that resonates with readers.
Here are the steps to writing and polishing your debut book:
Identifying Your Target Audience and Genre
Research your target audience and identify the genre that aligns with your writing style and interests.
Brainstorming Book Ideas and Choosing a Compelling Concept
Generate unique book ideas and choose a concept that captures readers' attention and stands out in the market.
Conducting Thorough Research and Outlining Your Book for Kindle Self Publishing
Research your topic or story extensively, specifically for Kindle self-publishing, to ensure accuracy and gather relevant information. Create a detailed outline, specifically tailored for Kindle self-publishing, that serves as a roadmap for your writing process.
Crafting a Winning Book Cover
A visually appealing book cover plays an important role in attracting potential readers.
Consider the following tips when crafting your book cover:
Researching Market Trends and Competition
Study the current trends and successful books in your genre to gain insights into what works well in terms of cover design.
Hiring a Professional Book Cover Designer
Consider engaging a professional book cover designer who can create a visually stunning cover that aligns with your book's genre and theme.
Elements of an Effective Book Cover Design
Ensure that your book cover includes compelling visuals, appropriate typography, and clear titles and subtitles.
Choosing Captivating Typography and Color Schemes
Select fonts and color schemes that are visually appealing and resonate with your target audience.
Navigating The Kindle Direct Publishing Platform
Uploading Your Book to KDP
To upload your book successfully to KDP, follow these steps:
Creating a KDP Account and Setting Up Your Profile
Sign up for a KDP account, provide the necessary information, and set up your author profile.
Formatting Your Manuscript for Kindle
Follow the formatting guidelines provided by KDP self publishing to ensure your book displays correctly on Kindle devices and applications.
Uploading Your Book Files and Cover Image
Upload your manuscript file, cover image, and any additional resources required for your book.
Setting Pricing Options and Royalty Rates
Determine the price of your book and select the royalty options that align with your earnings goals.
Leveraging KDP Select and Kindle Unlimited
KDP Select and Kindle Unlimited offer unique opportunities for authors to reach a broader audience and increase their earnings.
Consider the following strategies:
Understanding KDP Select and Its Benefits
Evaluate the advantages of enrolling your book in KDP Select, such as access to Kindle Unlimited subscribers and promotional opportunities.
Enrolling Your Book in Kindle Unlimited (KU)
Decide whether to make your book available through Kindle Unlimited, where readers can borrow and read it as part of their subscription.
Utilizing KU Promotions and Countdown Deals
Take advantage of KDP Select promotions, including Kindle Countdown Deals and limited-time free promotions, to generate buzz and attract readers.
Maximizing Reader Engagement Through KDP Select
Engage with Kindle Unlimited readers by participating in community forums, responding to reviews, and providing additional content or bonus materials.
Monitoring and Optimizing Your Book's Performance
Tracking Sales and Royalties
To monitor the performance of your book and optimize your earnings, follow these steps:
Accessing Sales and Royalty Reports on KDP
Utilize the reporting tools provided by KDP to track your book's sales, royalties, and other performance metrics.
Analyzing Sales Trends and Identifying Opportunities
Study your sales data to identify patterns, trends, and opportunities for improvement or further marketing efforts.
Adjusting Pricing Strategies for Increased Earnings
Experiment with different pricing strategies, such as promotional discounts or price adjustments, to optimize your book's sales and earnings.
Garnering Reviews and Feedback
Positive reviews and feedback are essential for building credibility and attracting new readers.
Consider the following tactics:
Encouraging Readers to Leave Reviews
Prompt readers to leave reviews by including a call-to-action at the end of your book or through targeted email campaigns.
Dealing with Negative Reviews and Feedback
Respond to negative reviews professionally and constructively, focusing on addressing any valid concerns or issues raised. Furthermore, as an Amazon Kindle Publisher, it is important to utilize feedback from negative reviews to improve your offerings.
Leveraging Positive Reviews for Marketing Purposes
Feature positive reviews on your author's website, social media profiles, and book descriptions to enhance your book's appeal and credibility.
Key Takeaways
Maximizing your earnings with Kindle Direct Publishing (KDP) requires careful planning, strategic marketing, and a commitment to delivering high-quality content. By understanding the publishing process, preparing your book for success, navigating the KDP platform effectively, implementing robust marketing strategies, and monitoring your book's performance, you can increase your KDP sales and generate substantial earnings through your debut book. Embrace the opportunities provided by self-publishing and Kindle Direct Publishing, and embark on a rewarding journey as an independent author.
Hire Book Writing Cube today and start your book publishing journey today!