Whether you're starting out as an author or have written several books, marketing your books is one of the most important tasks you will ever complete. Getting your books into the hands of as many people as possible is the key to getting paid for them. In this post, we will discuss different ways to market your book on Amazon.
Why Does a Book Marketing Company Use Social Media For Book Publicity?
A book marketing services agency will use social media to connect with potential readers and create interest in a book. The first step is to identify the target audience. This might include people who are interested in the book's topic or people who are likely to read books in general. Once the target audience has been identified, the next step is to create content that will appeal to them.
This might include blog posts, articles, or even short videos. The final step is to promote this content through social media channels such as Facebook, Twitter, and Instagram. By doing this, the book marketing agency can reach many potential readers and generate interest in the book.
3 Tips to Market Your Book on Amazon as A Kindle Book Publisher.
Getting your self-published paperback books into the hands of as many people as possible is the key to getting paid for them, and there are several different ways you can go about it.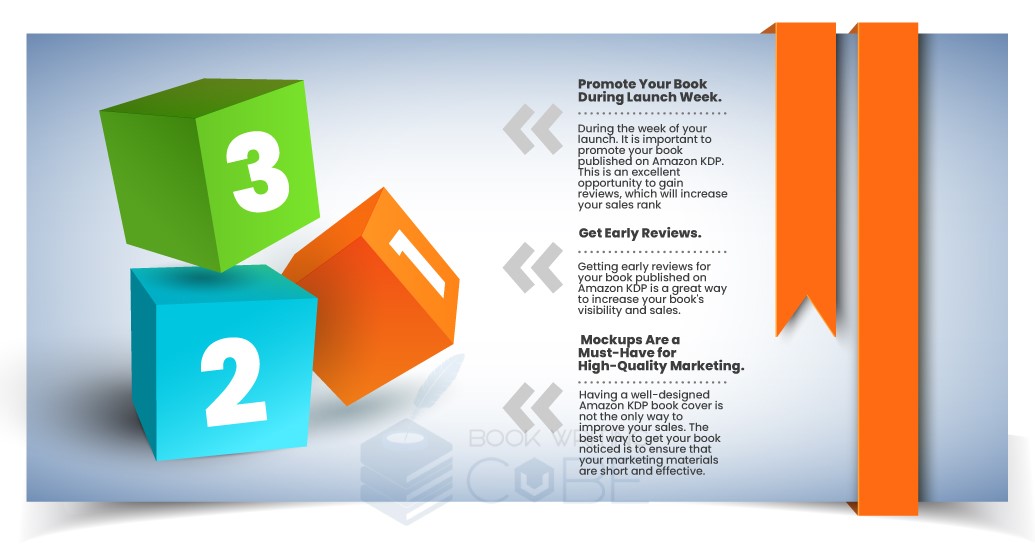 During the week of your launch. It is important to promote your book published on Amazon KDP. This is an excellent opportunity to gain reviews, which will increase your sales rank. You can also use this time to encourage people to preorder your book. This will help prevent inventory shortages on launch day.
2.
Get Early Reviews.
Getting early reviews for your book published on Amazon KDP is a great way to increase your book's visibility and sales. Reviews also boost your book's rankings in search engines, helping to drive organic traffic. Reviews are also important for building your brand.
Before launching your book, it's important to make sure that you have an email list of potential reviewers. This is the easiest way to get feedback on your book before it's released. Getting reviews for your book is essential whether you use a review service or a network of friends.
3.
Mockups Are a Must-Have for High-Quality Marketing.
Having a well-designed Amazon KDP book cover is not the only way to improve your sales. The best way to get your book noticed is to ensure that your marketing materials are short and effective. One of the best ways to do this is to create a storyboard. This will allow you to see exactly how many pages you need to tell the story of your book. A free book bolt interior generator can also be used to help.
Final Thoughts!
Getting your book published on Amazon is no small feat, especially if you haven't written a book before. Luckily, a few websites like Book Writing Cube can help you on the road to success. Some of the sites even offer free consultations to ensure your book complies with Amazon's strict quality standards. Before you know it, you'll be ready to hit the Amazon marketplace.