As an author in the digital age, you must create and sustain a solid presence that differentiates you from other authors.
Establishing yourself as unique is essential for standing out from the competition, growing your readership base, and increasing profits on Amazon with Kindle Direct Publishing. Building your distinct author brand is the critical component of this goal.
Here's what will help you develop a unique personal brand – a great start to creating lasting success with KDP. But before we delve into strategies, let's first discuss the benefits of building a successful brand.
The Importance Of Building A Successful Author Branding
Developing a successful personal brand is the foundation for book promotion success. A strong brand can help you to connect with readers, drive sales of your books, and increase your visibility as an author.
Here are some compelling reasons why authors should consider investing time and effort into building a successful brand:
1. Reach A Wider Audience
A solid personal brand allows you to reach out and connect with readers who may not have known about your work otherwise.
2. Differentiate Yourself From Other Authors
A unique author brand can help you stand out from your competition and attract more book buyers.
3. Increase Book Sales
A solid personal brand can help increase book sales and attract more people to buy your books.
4. Establish Credibility
A successful personal brand gives you the credibility you need to be seen as an author of note in the publishing world.
5. Create Connections With Readers
You can interact and engage more closely with your readers with a strong personal brand.
6. Showcase Book Reviews
A strong author brand in place can help with author marketing. You can showcase book reviews and encourage further book sales.
7. Increase Media Exposure
Being able to present a strong brand gives you more chances to get media coverage and increase your book's visibility.
8. Increase Author Income
Building a successful brand increases the chances of getting more book sales, which can increase the author's income.
Building a successful author brand can reap many benefits in terms of increased book sales and author visibility. Investing time and effort into creating a strong brand gives you the platform to reach out to readers and make connections that could lead to tremendous success as an author.
Why Is Building A Loyal Following And Engaging With Readers Necessary For Kindle Direct Publishing Success
?
Building a devoted following and engaging with readers is essential for Kindle Direct Publishing success.
By understanding Amazon algorithm, understanding reader preferences, developing relationships with readers, and understanding the market – authors can better target their audience and create content that resonates authentically with potential customers.
Connecting directly with your potential buyers lets authors show that they understand their reader's needs and values, which can help create stronger relationships with them. Engaging with readers also provides authors with invaluable feedback on their work, such as understanding the effectiveness of cover art in attracting readers and understanding what topics resonate with those reading their books.
By understanding these factors, authors can better tailor their books to the market and create long-term success with KDP. With that said, if you are in quest of the best book advertising services, contact Book Writing Cube today. Our professionals can help build excitement for your book and help you reach a broad audience.
Ways Of Establishing Your Brand Through An Author Website And Social Media
As an author, creating and establishing your brand is paramount to growing your platform, attracting readers, and selling books. It can be daunting, but with proper tools and strategies, it doesn't have to be. A website and social media channels play the two most integral roles in author branding.
Here are seven ways to use them to build a personal brand that stands out from the competition.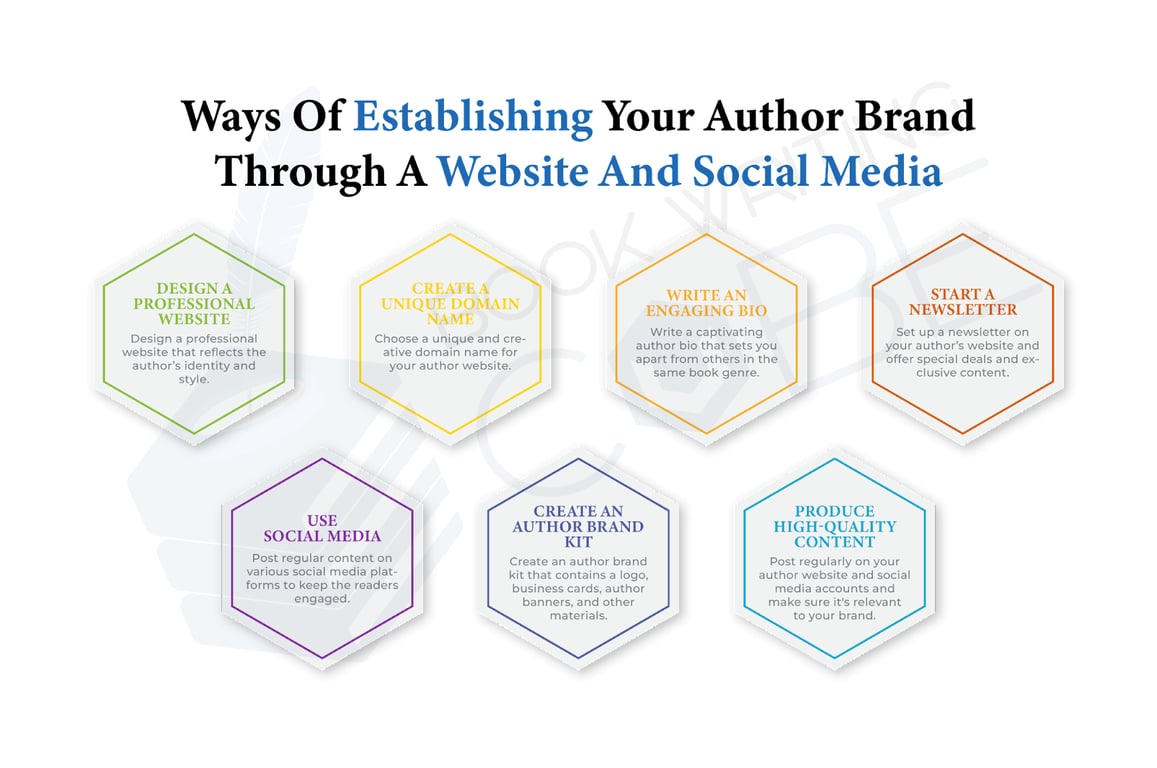 A professional author website design is one of the best ways to showcase your brand and introduce yourself to new readers. Make sure yours reflects both your author identity and style and the genre or subject matter you write about in your books.
When designing a website, author website design services keep it clean and organized and use high-quality images to help capture readers' attention.
2. Create a Unique Domain Name
When choosing a domain name for your author website, go with something easy to remember and creative. A unique domain name will make it easier for people to find you and your website.
3. Write an Engaging Bio
Writing an author bio is critical to establishing your brand. Keep it engaging and conversational, focusing on the types of books you write and what sets you apart from other authors in the same genre or subject matter.
More often than not, author promotion services include a call-to-action at the end of your author bio, such as a link to an author blog or newsletter signup.
4. Start a Newsletter
Building an email list is essential for connecting with readers and growing your author platform. Try to set up a newsletter on your author's website and offer special deals, exclusive content, book updates, and more to draw in readers and keep them engaged.
5. Use Social Media
Utilizing the right social media platform is essential for author branding and promotion. Focus on one or two platforms most relevant to your brand and target audience. Post regularly and engage with other authors and readers in your genre by joining in conversation topics, author takeovers, book challenges, and more.
6. Create an Author Brand Kit
A brand kit is a great way to ensure that your author identity remains consistent across all channels. Consider creating a logo, business cards, author banners, and other materials with the same branding elements you can use on your website and social media accounts.
7. Produce High-Quality Content
Regularly producing high-quality content is essential for author branding. Make sure you post regularly on your website and social media accounts and that it's relevant to your brand, genre, and target audience. You can also use a mixture of blog posts, videos, book reviews, author Q&As, author interviews, and more to keep readers engaged.
Creating a personal brand takes time, energy, and effort. Still, with a professional website and the right strategies for social media, you can be well on your way to creating an author identity that stands out from the rest. Make sure you take advantage of these ways to establish your personal brand through your author's website and social media channels to reach a wider audience and promote your books.
Maximizing Exposure And Book Sales Through A Strong Author Brand
Creating a strong personal brand is imperative for maximizing book exposure and sales. Authors can easily reach their target audience and build an engaged following through a consistent, curated presence on social media.
Additionally, strategies such as Amazon ads or utilizing influencers to promote books can boost visibility and overall sales on the Amazon platform. Authors should know the strategies to boost Amazon book sales. They also need to be aware of the techniques that work best for their genre and audience.
Moreover, a strong brand can help create long-term loyalty among readers by creating an authentic connection with them that goes beyond book sales.
Final Thoughts
By now, you should have a strong understanding of what it takes to write quality books that will sell, and more importantly, you should have started building your brand.
Remember, the key to long-term success on KDP is not just about writing great books - it's also about building a solid relationship with your readers by establishing yourself as a credible authority in your niche.
Keep these tips in mind as you continue to grow your business on KDP, and always bear in mind that slow and steady wins the race when building a successful brand.
Having said that, if you are looking for exceptional book marketing services, Book Writing Cube is the safest bet. We provide cost-effective, customer-centric, and result-driven marketing services. So, contact us today and take your book marketing to the next level.