As an author, you have many options when it comes to publishing your work. You can go the traditional route and submit your manuscript to the best book publishing companies or publishing houses. Or, you can self-publish your book.
If you choose to self-publish, there are a number of companies that offer services to help you through the process, including Amazon book publishing services. In this blog post, we'll take a look at what Amazon publishing services offer and whether or not it's a viable option for publishing a book on Amazon.
So, you've written a book and are ready to share it with the world. But where do you start? If you're looking to self-publish, Amazon fiction book publishers are a great option. With over 300 million active customer accounts, Amazon is the world's largest online retailer. They offer several services to help you get your book into the hands of readers. Here's a quick guide to publishing a book on Amazon.
First, you'll need to create an account on Amazon's Kindle direct publishing (KDP) platform. This is where you'll upload your book file, set your price, and determine whether or not you want to enroll in their 70% or 35% royalty plan. Once your book is live on the KDP platform, it will be available on Amazon.com and other retailers participating in the Kindle network.
Next, you'll need to create a cover for your book. You can either design one yourself or hire a professional book cover designer to do it for you. If you go the DIY route, there are some great resources available online, like Canva, that make it easy to create a professional-looking cover even if you don't have any design experience.
Once your cover is complete, it's time to format your interior pages. Again, some great tools available online can help with this, like Book Design Templates. Once your book is formatted and ready to go, simply upload it to the KDP platform and hit publish!
Now, all that's left to do is promote your book and sell copies! There are several ways to go about this, from social media marketing to reaching out to influencers in your genre. The important thing is to get creative and put yourself out there, so people know your book exists.
With these simple steps, you can be well on your way to seeing your name in print! Publishing on Amazon is a great way to reach a large audience of potential readers with minimal upfront costs. So, what are you waiting for? Get writing!
What Are Amazon Book Publishing Services, And What Do They Offer Writers?
Amazon Publishing Services is a suite of tools and services that offer writers a number of benefits. Perhaps the most significant benefit is that Amazon Kindle Direct Publishing can help writers reach a wider audience.
By making use of Amazon's vast distribution network, writers can put their books in front of millions of potential readers. In addition, Amazon KDP publishing services provide a number of marketing and promotional opportunities that can help writers to boost sales. For example, writers can use Amazon's "Look Inside" feature to give potential readers a taste of their book.
They can also take advantage of Amazon's vast customer base by offering their books as part of Kindle Unlimited, a subscription service that gives readers access to a large number of eBooks. Overall, Amazon book writing services provide a wealth of opportunities for writers to reach new readers and boost sales.
What Percentage Does Amazon Take for Self Publishing Cost?
Regarding self-publishing, Amazon is one of the most popular platforms. And for a good reason - it's estimated that nearly 80% of all eBooks are sold through Amazon. But what many authors don't realize is that Amazon also takes a percentage of each sale. For digital books, Amazon typically charges a 30% commission.
That means for every $10 book you sell, Amazon will take $3. So, if you want to maximize your earnings, it's important to factor in this commission when setting your prices. Of course, there are other platforms you can use for self-publishing, and some of them do have lower commissions.
But ultimately, it's up to you to decide what's best for your book. No matter what platform you use, self-publishing can be a great way to get your work out there and earn some extra income. Just be sure to keep an eye on those fees!
Amazon pays book publishers royalties on eBooks and audiobooks. This money is calculated based on the book price listed on Amazon. The royalty tiers are determined by the book's price and page count. Depending on the book's size, authors can earn between 70 percent and 35 percent of the retail price. The royalty tiers vary by country and region.
Using the Amazon KDP platform, you can self-publish a book on the Kindle. This simple process requires you to create a KDP account and upload your manuscript. Amazon will then publish your book, and you can begin selling it.
If you self-publish through Amazon, you can expect to earn between 60 and 70 percent of the retail price for books that are sold on the Kindle. Royalties are calculated monthly, and you can receive the money in direct deposit, by check, or through a wire transfer.
You can also earn royalties through the Amazon Expanded Distribution Network (EDN) for books sold through the Kindle store. This program pays royalties higher than the Amazon Kindle Direct Publishing platform. For books that are priced under $2.99, you will receive only 35% of the royalties.
The percentage of royalties varies by region and is determined by whether or not your book is sold through an exclusive distribution network. You will also receive a smaller commission if you sell your book through an exclusive distribution network.
What Are the Benefits of Using Amazon KDP Publishing Over Other Self-Publishing Platforms?
Regarding self-publishing, there are several different platforms to choose from. However, many authors find that Amazon KDP offers the most benefits. One of the biggest advantages of using Amazon KDP is that it gives you access to Amazon publishers and a wide audience.
Amazon is one of the largest online retailers in the world, so your book will be seen by millions of potential readers. Also, Amazon KDP offers the best book publishers and a range of promotional tools that can help you reach even more people.
With Amazon KDP, you can offer your book for free for a limited time or at a discounted price. You can also run ads on Amazon and promote your book through their various channels.
Another benefit of using Amazon KDP is that they make it easy to publish your book. Their user-friendly and empowering platform gives you complete control over the publishing process.
So, if you're looking for the best self-publishing platform, be sure to consider Amazon KDP.
With the advent of digital publishing, self-publishing has become a more viable option for authors. There are a number of different platforms to choose from, but one of the most popular is KDP. KDP stands for Kindle Direct Publishing, and it is a service offered by Amazon.
Authors can use KDP to publish their books electronically and make them available for sale on the Amazon Kindle store. In addition, KDP offers print-on-demand services, meaning that authors can also choose to have their books printed and shipped to customers.
While there are some drawbacks to using KDP, such as the fact that Amazon takes a percentage of sales, overall, it is a good option for authors who want to self-publish.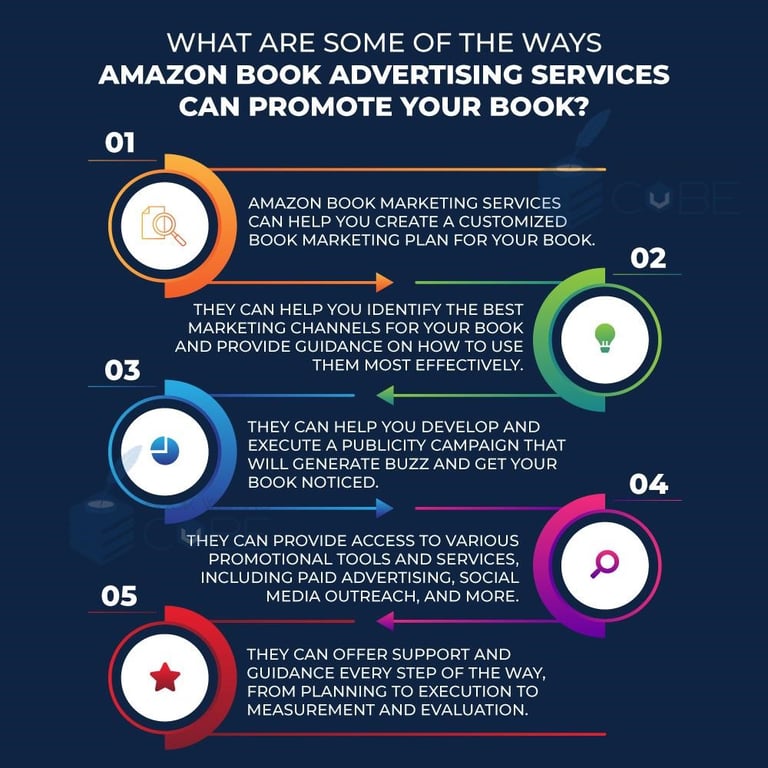 Amazon book advertising can promote your book by making it more visible to potential readers. One way they do this is by featuring your book on the Amazon website and in Amazon emails. They also promote your book through social media channels like Twitter and Facebook.
In addition, Amazon book advertising services can help to increase your book's sales ranking on Amazon.com, making it more likely that potential readers will see your book when they search for books on the site. As a result, Amazon's famous book publishers can significantly boost your book's visibility and sales. Here are 5 ways Amazon advertising services can help you promote your book.
1. Amazon book marketing services can help you create a custom book marketing plan specifically for your book.
2. Amazon book marketing services can help you identify the best marketing channels for your book and provide guidance on how to use them most effectively.
3. They can help you develop and execute a publicity best book marketing campaigns that will generate buzz and get your book noticed.
4. They can provide access to various promotional tools and services, including paid advertising, social media outreach, and more.
5. They can offer support and guidance every step of the way, from planning to execution to measurement and evaluation.
Final Thoughts!
If you are looking to self-publish your book on Amazon, you'll want to make sure you get the most out of your experience. And that's where Book Writing Cube comes in. We're a team of experienced ghostwriters, editors, and publishing consultants who can help you take your book from concept to completion with the help of our book editing services.
We'll work with you to develop your ideas, flesh out your characters, and create an outline for your book. Then, we'll handle the writing, editing, and formatting process, ensuring that your book meets all of Amazon's requirements. And once your book is published, we'll help you promote it through social media and other channels.
So, if you're ready to self-publish on Amazon, hire Book Writing Cube and let us help you achieve success.