Did you know that there are three ways to publish a book? Traditionally, authors would go through a publishing house that would oversee the editing, marketing, and distribution. However, with the advent of self-publishing and e-books, more and more people bypass the publishing houses and go directly to Amazon KDP. For many reasons, self-publishing through Amazon book publishing services is the best choice for authors. Here are nine of them: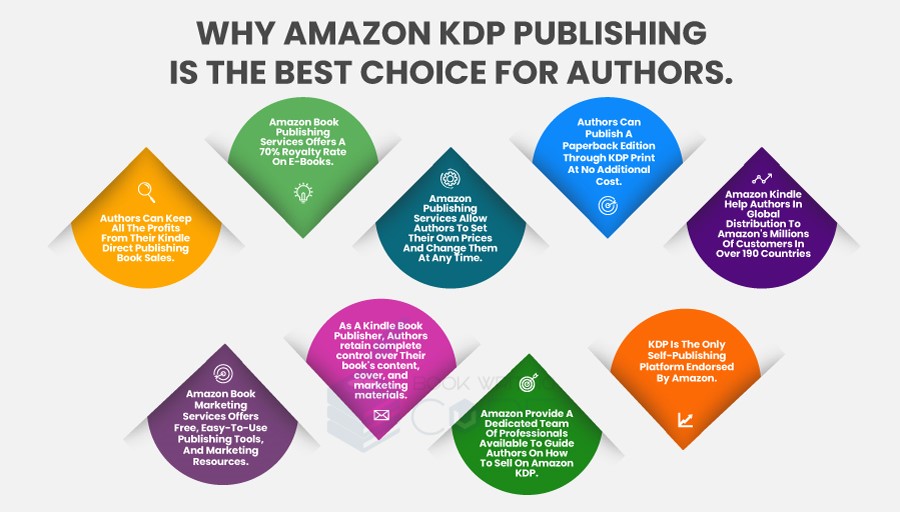 1.
Authors Can Keep All the Profits from Their Kindle Direct Publishing Book Sales.
As an author, one of the most important decisions you'll make is how to publish your book. Many different options are available these days, and it can be tough to know which one is right for you. Regarding self-publishing, Amazon's Kindle Direct Publishing (KDP) platform is widely considered the best author choice. Here's why:
When you self-publish through KDP, you get to keep all the profits from your book sales. With traditional publishing, you would have to split the profits with your publisher. But you get to keep 100% of the royalties when you're self-published. That means more money in your pocket!
Amazon KDP is relatively easy to get started with. You don't need to go through the hassle of finding an agent or a publisher. You can simply upload your book and start selling it on Amazon. And Amazon is a huge marketplace with millions of potential readers. So self-publishing through book publishing services allows you to reach a large audience.
If you're looking for the best option for self-publishing your book, Amazon KDP should be at the top of your list. With 100% of royalties going to the author, it's a great way to maximize your earnings. And because it's so easy to get started, it's perfect for authors who want to take control of their KDP self publishing journey.
If you're an author looking to publish your work electronically, there's no better place to do it than Amazon's Kindle Direct Publishing (KDP) platform. KDP offers a 70% royalty rate on e-books, which is significantly higher than the industry standard of 25%. This means you'll earn more money per sale, giving you a greater incentive to publish your work through KDP. In addition, KDP offers a number of features and book editing services that help you promote and sell your book. For example, you can create a professional-looking book cover using their cover Creator tool and their Marketing and kindle formatting services to reach a wider audience. So, if you're looking for the best place to publish your e-book, Amazon's KDP platform is a clear choice.
3.
Amazon Publishing Services Allow Authors to Set Their Own Prices and Change Them at Any Time.
When it comes to choosing a platform for self-publishing, there are many factors to consider. For example, some authors may prioritize reaching a wide audience, while others may be more concerned with retaining creative control.
However, one key consideration that should not be overlooked is pricing. After all, as any author knows, a book's price can significantly impact its success. With that in mind, let's take a closer look at why KDP is the best choice for authors regarding pricing.
First and foremost, Amazon allows authors to set their own prices for their books. This means that authors have complete control over how much their books sell. In addition, Amazon also allows authors to change their prices at any time. This flexibility is essential for authors who want to experiment with different pricing strategies or who need to respond to changes in the market.
As a result, KDP offers authors a level of pricing control that is simply unmatched by any other Amazon self-publishing services platform.
4.
Authors Can Publish a Paperback Edition Through KDP Print at No Additional Cost.
As an author, you want to have as many options as possible when it comes to publishing your book on Amazon. And with KDP, you definitely have that. Not only can you publish your eBook on Amazon's Kindle platform, but you can also create a paperback edition through KDP Print at no additional cost. That's right - you can publish your book in kindle book format without spending extra money. And that's just one of the many reasons why KDP is the best choice for authors.
Another great thing about publishing on Amazon is that you retain complete control over your book. From the cover design to the pricing, you can make all the decisions about your book. And that means you can really create a book that is true to your vision. You're not beholden to anyone else's opinion or standards - it's all up to you.
If you're looking for a publishing platform that gives you complete control and plenty of options, then publishing on Amazon is definitely the way to go. Why not give it a try today? You might just be surprised at how easy and rewarding the Amazon self-publishing process can be.
5.
Amazon Kindle Helps Authors in Global Distribution to Amazon's Millions of Customers in Over 190 Countries.
KDP is the best choice for authors because Amazon Kindle helps authors in global distribution to Amazon's millions of customers in over 190 countries. With KDP, you can easily reach readers worldwide, making your books available in English, Spanish, Brazilian Portuguese, Simplified Chinese, and more. And, if you're looking to maximize your book's reach, you can also enroll in KDP Select and take advantage of exclusive promotional benefits like Kindle Unlimited and the Kindle Owners' Lending Library. With KDP, it's easy to get your books into the hands of eager readers from all over the globe. So, if you're looking to give your book the widest possible audience, KDP is a clear choice.
6.
Amazon Book Marketing Services Offers Free, Easy-To-Use Publishing Tools, And Marketing Resources.
If you're an author looking for a way to reach more readers, Amazon book marketing services offer free, easy-to-use KDP self publishing tools and marketing resources. With Amazon's vast reach and millions of active customers, you can rest assured that your book will be seen by a wide audience. And with their wide range of marketing services, you can choose the right strategy to connect with potential readers.
Whether you're looking for social media support, Goodreads giveaways, or Amazon Advertising campaigns, Amazon has the resources and expertise to help you succeed. So, if you're ready to take your publishing career to the next level, be sure to check out Amazon book marketing services.
7.
As A Kindle Book Publisher, Authors retain complete control over Their book's content, cover, and marketing materials.
As an author, you want to have as much control over your book as possible. After all, it's your baby! You've put your blood, sweat, and tears into writing it, and you want to make sure that it's presented in the best possible light.
That's why so many authors prefer to work with Amazon KDP Publishing when it comes to publishing their Kindle books. With Amazon, you retain complete control over your book's content, cover, and marketing materials. That means you can make sure that your self-published paperback books are exactly the way you want them before they go out into the world.
And since Amazon is such a huge platform, you'll have a much better chance of reaching your target audience. So, if you're looking for a publisher who will give you complete control over your work, look no further than Amazon!
8.
Amazon Provide a Dedicated Team of Professionals Available to Guide Authors on How to Sell on Amazon KDP
.

Amazon is the world's largest online retailer, and they have made it easy for authors to sell their books on their platform. Amazon provides a dedicated team of professionals who are available to guide authors on how to sell on Amazon KDP. They offer tips on how to optimize your book's page, how to market your book, and how to reach your target audience. In addition, they offer tools that help you track your book's sales rank and reviews. All these services are free, making writing an eBook for Amazon easy for authors to sell their books on Amazon. As a result, many authors prefer to sell their books on Amazon rather than on other platforms.

9.
Kindle Direct Publishing Is the Only Self-Publishing Platform Endorsed by Amazon.
.
Amazon's Kindle Direct Publishing (KDP) is the only self-publishing platform endorsed by Amazon.com. That alone is a major reason why authors prefer to use KDP to publish their books. In addition, KDP offers a wide range of benefits for the best online book publishers, including high royalties, global distribution, and easy-to-use tools. Perhaps most importantly, Amazon KDP Publishing gives authors complete control over the Amazon self-publishing process from start to finish. As a result, authors who self-publish with KDP can be confident that their books will reach the widest possible audience.
Final Thoughts!
Are you an aspiring author with a story to tell? If so, you may be wondering how to publish your book. While some authors choose to go the traditional route of finding a literary agent and submitting their work to publishers, others opt to self-publish their books. This is where Book Writing Cube can help. We are a team of professional writers, editors, and book designers who can handle all aspects of the self-publishing process.
We will work closely with you to ensure that your book meets all of Amazon's requirements and that it is polished and ready for publication. So, if you're ready to see your name in print, contact us today. We'll provide you with book proofreading services and help you turn your dream of becoming a published author into reality.