The publishing landscape is more competitive than ever, so authors need to have knowledge about getting their books seen. Traditional methods like print-on-demand are becoming less effective as the digital marketplace evolves, creating a greater demand for modern strategies that get your book noticed in the growing pool of titles on Kindle Direct Publishing (KDP) platforms.
If you're looking to rise above this competition, you have landed in the right place. This blog post explores the power of Amazon's targeted tools for book advertisement and strategies to increase visibility and elevate your eBooks into bestseller status.
Understanding the Importance of KDP Advertising for Your Book
When it comes to Amazon book marketing, KDP Advertising is an essential component of success. By creating a sponsored ads campaign, authors can promote their books on Amazon and various other channels to reach more readers and increase sales.
KDP Advertising allows you to target potential customers based on their interests and demographics, which gives your book the best chance of reaching its desired audience. Furthermore, Amazon's powerful algorithms ensure that your book is shown to the right people at the right time, making it more likely for readers to purchase it.
These benefits help make KDP Advertising an invaluable tool for authors who want to maximize their Amazon book advertising success.
Harnessing the Power of Amazon's Targeted Advertising Tools
Amazon is one of the largest and powerful online retail sites, with millions of customers searching for products daily. Amazon's targeted advertising tools are a great way to reach potential customers and boost sales for your Amazon book promotion.
Here are five tips for capitalizing on the power of Amazon's targeted advertising tools:
1.
Create Amazon-Specific Ads
Amazon's targeted advertising allows you to create specific ads tailored to customers. It means you can target potential readers interested in your book and show them the ad while they shop on Amazon.
2.
Leverage Amazon's Audience Insights
Amazon's Audience Insights feature allows you to gain an understanding of potential reader demographics. It will enable you to create ads that are more appealing and relevant to Amazon's customers, increasing your chances for success.
3.
Utilize Amazon Pay-Per-Click (PPC)
Amazon's PPC advertising allows you to bid on specific keywords to ensure your Amazon book ad appears when customers search for related terms. It is an excellent way to drive traffic and visibility to your book and increase sales.
4.
Track Amazon Ads Performance
Amazon provides detailed metrics to monitor the performance of your Amazon ads. The best book marketing services use this information to optimize Amazon book advertising campaigns, so you're getting the most out of Amazon's targeted advertising tools.
5.
Analyze Amazon Ads Data
Amazon also offers detailed reporting on your Amazon ads performance, including cost-per-click, impressions, and click-through rates (CTRs). KDP advertising services use this data to understand how customers respond to your Amazon book advertising campaigns and adjust accordingly.
By using the power of Amazon's targeted advertising tools, you can significantly increase visibility and sales.
Maximizing Your Book's Visibility through KDP Select and Free Book Promotions
KDP Select and free book promotions are great tools to help maximize your book's visibility. These strategies can be incredibly effective if you're looking for ways to increase your book's discoverability on Amazon.
Here are some advance tactics for Amazon book promotion: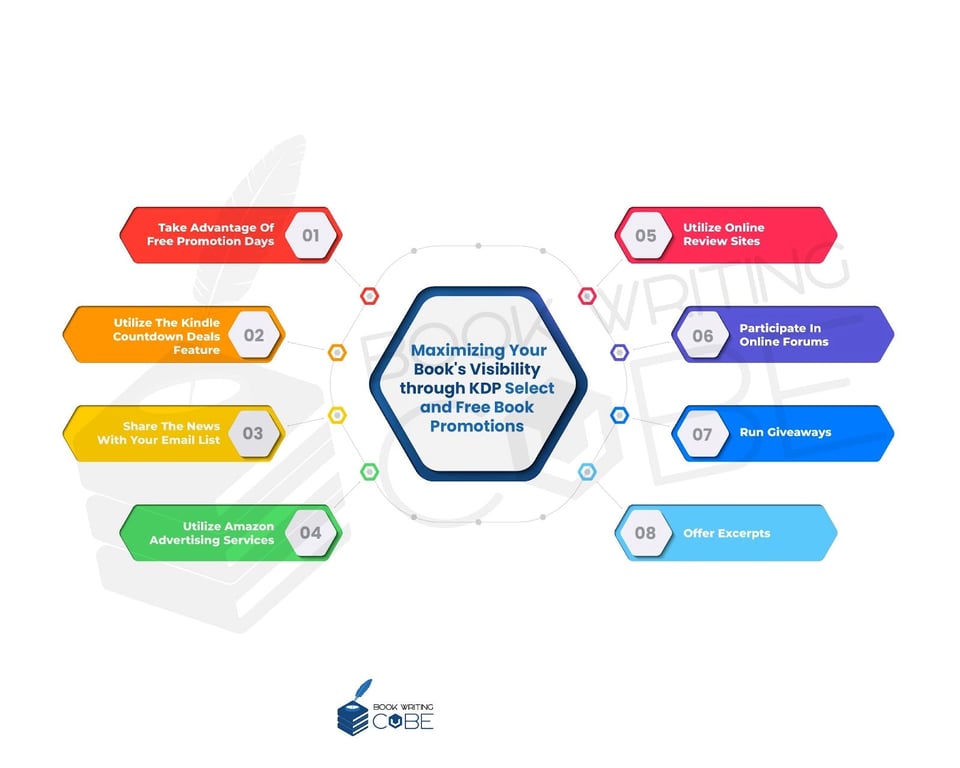 1.
Take Advantage Of Free Promotion Days
Kindle Direct Publishing offers regular free promotion days, allowing authors to make their books available for specific days. It can be a great way to get more readers interested in your book and help it gain attraction without spending money on advertising.
2.
Utilize The Kindle Countdown Deals Feature
Kindle Countdown Deals allow authors to offer discounts on their books for specific days. This feature is especially useful to create a sense of urgency and get readers to buy your book quickly.
3.
Share The News With Your Email List
If you have an existing email list, let them know about any discounts or promotions you have running on KDP Select. It is an excellent method to spread the word about your book and incentivize people to purchase it.
KDP Select provides authors with access to Amazon's advertising platform, which allows you to target your book to a particular audience on Amazon.
5.
Utilize Online Review Sites
Review sites are great resources for getting reviews of your book. Reviewers on these sites often include a link to the book's page or blog post, which can help you get more traffic and sales.
6.
Participate In Online Forums
Forums like Reddit and Quora are great places to discuss your book, answer questions and promote it. People on these sites are often passionate about reading, so they will likely be interested in what you offer.
7.
Run Giveaways
Giveaways are the best way to get people interested in your book. Popular giveaway sites allow you to post details of your giveaway so that users can enter easily.
8.
Offer Excerpts
Excerpts of your book allow readers to taste the material without purchasing it. You can post excerpts on social media or your blog or even use them in email newsletters and other forms of promotion.
Following the aforementioned tips can boost your book's visibility on Amazon and reach new readers. Ultimately, this should boost sales numbers, reviews, and word of mouth. That said, if you are looking to hire a professional book marketing agency, contact Book Writing Cube today. We can help broaden your readership on Amazon KDP and help you accomplish sales goals.
Measuring and Optimizing Your Book's KDP Promotion Results for Continued Success
By using the advanced strategies for KDP book promotion and marketing on Amazon discussed in this blog post, you will be able to put yourself one step ahead of the competition. These strategies will help you tap into an audience of buyers that are wanting to read your content.
And while advanced strategies are essential to get a leg up in the competition, it's crucial to gauge and optimize the results to ensure success. What works one time may not necessarily work the next. Still, by regularly measuring your results and adjusting accordingly, you can maximize your book promotion efforts for increased success in the future. Staying organized, being clear about objectives, and drawing conclusions from data are all crucial procedures that should be a part of any KDP promotion plan.
With that said, if you are in quest of a reliable book marketing company, look no further than Book Writing Cube. We can craft a compelling marketing strategy that aligns well with your target audience and help book exposure.