When looking for someone for publishing a book online, it's important to know what to look for in a quality book publishing services company. You need a team that understands your vision and can help you bring your book to life. Here are seven things to consider when choosing a publisher.
When you're thinking about submitting your children's book, you're probably wondering how to choose between an in-house editor, an agency, or both. You'll also need to consider the cost of hiring a developmental editor, designer, and formatter. Thankfully, there are a number of advantages to hiring an agency to handle your manuscript. You can find out how much your project will cost below!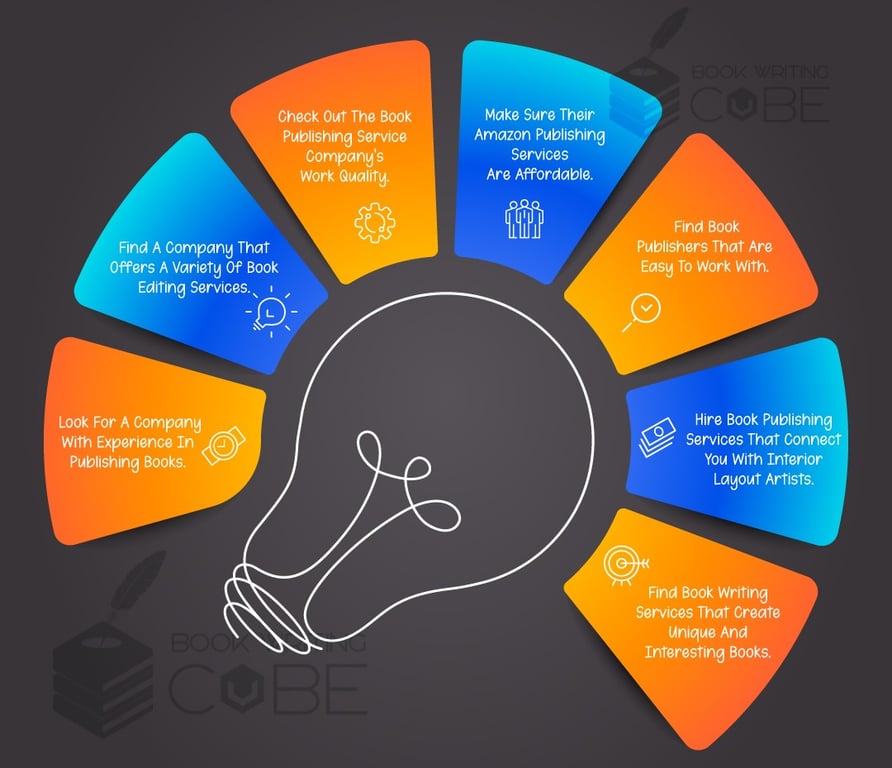 1.
? — Look For A Company With Experience In Publishing Books.
If you're looking for a company with experience in self-publishing books, there are a few things to keep in mind. First, book publishing is a complex process that involves many different steps, from editing and design to printing and distribution.
The self-publishing services at Book Writing Cube include a team of experienced professionals who can guide you through the entire process.
Second, it's important to find a self publishing book company that offers a full range of book publishing services. This way, you can be sure that all your needs will be met, from start to finish.
Finally, don't forget to ask around for recommendations. Talk to friends, family, and colleagues who have published books before, and see who they would recommend. With a little research, you should have no trouble finding the right self publishing service for your needs.
2. Find A Company That Offers A Variety Of
.
Book editing and book publishing services assist you in preparing your manuscript for the next publication stage. Professional editors provide invaluable advice on how to improve your manuscript. They might assist you with everything from major plot and organization problems to minor grammatical and technical problems. Most importantly, a professional book editor is skilled at detecting flaws that prevent your manuscript from being published or sold.
5 Main Types of Book Editing Services
A professional book editor delves even deeper into the mechanics of a book, refining words and phrases to make a story better and easier to sell. To find professional book editing services, you must first determine what type of editing you require.
You can hire the following five types of book editing services:
A developmental editor takes a broad view of the story. They criticize issues of structure, plot, character, and overall style. Developmental editors focus on the book's big picture rather than on specifics. Instead of editing the language sentence by sentence, they focus on formatting issues.
Fact-Checking Editing
Although some fiction books also need fact-checkers, fact-checking editors typically work for publishing imprints that publish nonfiction. This book editing service could also work for newspapers, magazines, or scholarly journals. Fact-checker and copy editor roles are frequently combined in publications. However, larger book marketing services firms have more dedicated fact-checkers.
As the name suggests, a fact-checker is an editor who goes through manuscripts line by line to identify facts that need to be verified. The professional then researched to confirm the truth.
Copy Editing
Alternatively, copy editors work as ghostwriting services providers and make line-by-line edits to the text to ensure sound logic, proper grammar, and a consistent style. They rarely address larger issues such as plot holes or ambiguous character motivations. (Of course, they can point them out!) When a copy editor works on your book, a developmental editor should address those concerns.
Line editors make up the majority of editors. While there are many similarities between line editing and copy editing, and the terms are frequently used interchangeably, they are not synonymous. However, many editors will do both line editing and copy editing.
Line editing is reading a manuscript line by line and making corrections. The writing should be as polished as possible by removing duplicates, suggesting better word choices, adjusting sentence structures, and other techniques.
Proofreading
A good proofreader usually works with a book writing services provider and examines the text strictly mechanically. They ensure that words are correctly spelled, that formatting is consistent, and that punctuation is used correctly. Furthermore, they have no creative input; their job is to correct errors.
3. Check Out The Quality Of The
Company's Work.
When you are ready to publish your book, choosing a book publishing company that will provide you with high-quality services is essential. There are a few things you should look for when evaluating book publishing companies.
First, check out the quality of their work. Make sure they use high-quality materials and have a good track record of producing quality books.
Second, ask about their editing and amazon publishing services. You want to ensure your book is well-edited and free of errors before it goes to print.
Finally, inquire about their customer service. You want to make sure you will be able to contact them if you have any questions or concerns about your book.
Choosing online book publishers that can provide you with all of publishing book online services will help to ensure that your book is published successfully.
4. Make Sure Their
Are Affordable.
When you are ready to publish your book, choose a book publishing company with affordable amazon KDP publishing services. There are many book publishing companies, so it is important to research to find one that fits your budget and offers the amazon publishing services you need. Some best publishing companies offer print-on-demand services, which can be very helpful if you want to print a small number of books. Others offer more traditional services, which may be more expensive but can be worth it if you want to print a larger number of books. Whichever book publishing company you choose, ensure they are affordable and offer your needed services.
5. Find
That Are Easy To Work With.
There are many best publishers, so finding one that is easy to work with is important. The book publishing process can be complex, so you need a company that provides clear and concise instructions for every step. You also want a company that is responsive to your needs and willing to answer any questions. Furthermore, finding a book publishing company that offers various online book publishing services is important. This way, you can be sure they can handle your book from start to finish. When you take the time to find a book publishing company that is easy to work with, you'll be much more likely to have a positive experience overall.
6. Hire
Book publishing services are not just about finding someone to print your manuscript. You need a team of professionals to help you take your book from concept to reality, and that team should include an interior layout artist. The interior layout is the unsung hero of any book. The layout artist's job is to ensure that each page looks its best and that the text is easy to read.
Online book publishing services will also work with you to choose the right font and create an overall look for your book that reflects your unique voice. A good interior layout artist can take your vision and bring it to life, transforming your words into a beautiful and cohesive work of art. If you're serious about publishing your book, you need to find a professional book publishing services company that can connect you with a talented interior layout artist. With their help, you can create a book that looks and feels exactly how you want it to.
Here are three reasons why working with an interior layout artist is a good idea:
1. Interior layout artists have a keen eye for detail and can help ensure that your book is visually appealing.
2. They can also help to ensure that your book is easy to read and navigate, which is important for readers.
3. Working with an interior layout artist can save you time and money in the long run, as they can help you avoid printing mistakes and other costly errors.
Choosing the right book writers is essential for ensuring your project is successful. Make sure to work with a service that can connect you with experienced interior layout artists who can help make your book look its best.
7. Find
That Create Unique and Interesting Books.
A good book-writing service can turn your ideas into a well-written, interesting book that will captivate your intended audience.
Here are five ways they can do this:
1. They have experienced book writers on staff who know how to craft a story that will keep readers engaged from beginning to end.
2. They understand the importance of editing and will work with you to ensure your book is free of errors before it goes to print.
3. They can help you develop an eye-catching title and design for your book to make it stand out from the competition.
4. They can help you market your book to reach your target audience.
5. They offer competitive self publishing services pricing to get the most bang for your buck.
Hiring Book Writing Cube is a great way to ensure your book is everything you want it to be and more. With our help, you can create a unique and interesting book that will have people talking for years, contact us today to get a quote.