By BWC Team in 2023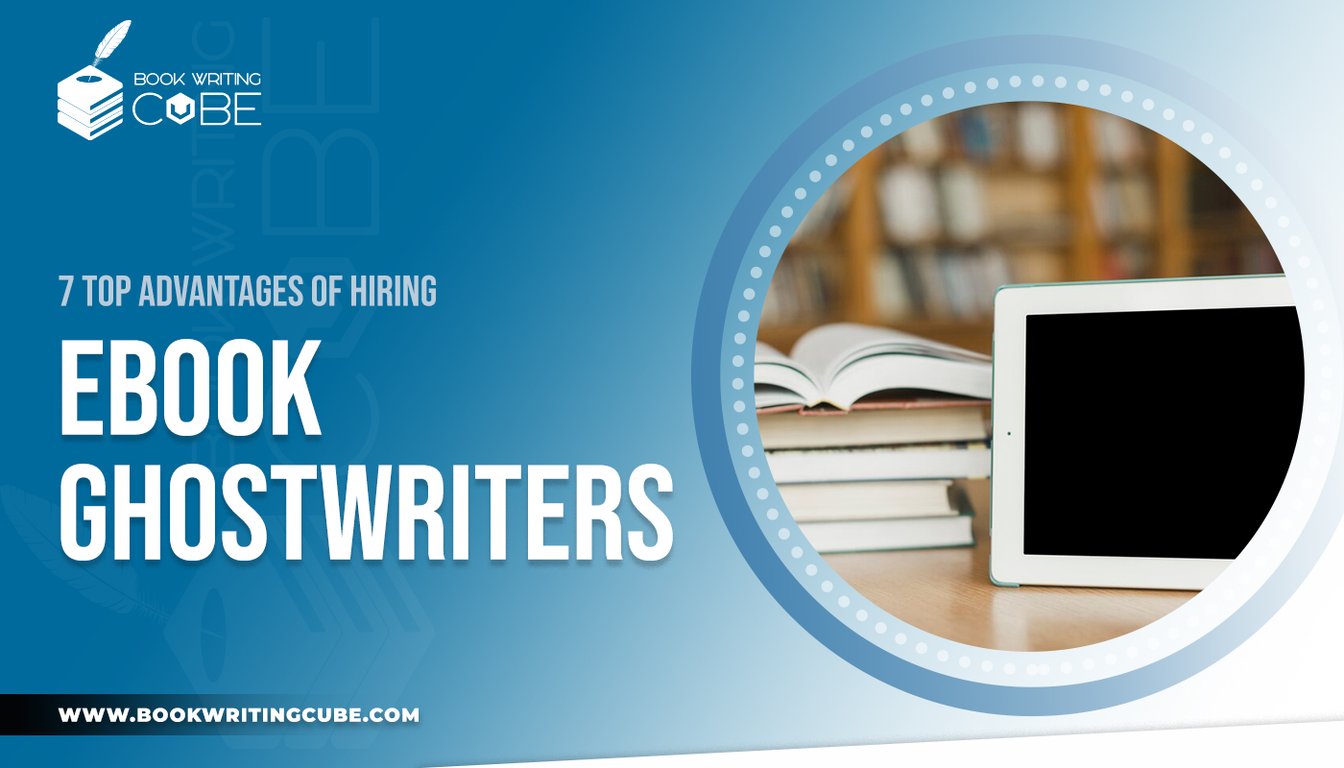 In a world where the written word shapes opinions, informs, and entertains, eBooks have taken center stage. The rise of eBooks has revolutionized how information is consumed across various industries. A significant factor contributing to their popularity is the convenience they offer. But have you ever wondered who weaves the magic behind these well-structured and informative eBooks? That's where eBook ghostwriters come into play. In this blog post, we'll delve into the top seven advantages of hiring these skilled professionals to create captivating content.
What Are Ebook Ghostwriters?
Ebook ghostwriters are skilled writers who craft content for eBooks, allowing the credited author or company to showcase their ideas and expertise without having to invest the time and effort into writing the content themselves. These writers possess a knack for research, creativity, and linguistic prowess, making them an essential asset in the creation of compelling eBooks.
Why Should You Invest In An Ebook Ghostwriting Service?
Creating a book is a substantial endeavor that may require several months or even years to finish. Opting to employ a ghostwriter allows you to concentrate on your other obligations while ensuring your book materializes. Furthermore, ghostwriters possess the know-how and proficiency to construct a book that is captivating, skillfully composed, and geared for success in the market.
Advantages of Hiring Best eBook Ghostwriters
1. Professional Expertise
Imagine having a subject matter expert dedicated to crafting your eBook. eBook ghostwriters possess specialized knowledge and skills in various subjects. Their expertise spans a wide spectrum, enabling them to delve into complex topics and present them with clarity and authority. Having an expert writer on your team ensures that your eBook is well-researched, accurate, and brimming with valuable insights that resonate with your readers.
2. Time-Saving
The journey from ideation to a published eBook is a demanding one. Hiring an ebook ghostwriter saves you an invaluable resource: time. Researching, writing, and editing an eBook can be time-consuming, often diverting your focus from other essential aspects of your project or business. With a professional ghostwriter at the helm, you can dedicate your time to strategy, marketing, and engaging with your audience.
3. High-Quality Content
Creating a polished and engaging eBook requires more than just stringing words together. Professional ebook ghostwriters ensure that your content is of the highest quality in terms of grammar, structure, and style. Their experience in crafting engaging narratives ensures that your eBook is not only informative but also captivating, keeping readers glued from start to finish.
4. Unique and Original Content
Originality is the lifeblood of any successful eBook. Creating unique content while avoiding plagiarism can be challenging. eBook ghostwriters excel in this aspect, producing tailor-made eBooks that cater to your target audience's interests and needs. By weaving a tapestry of original ideas and expert insights, they help you stand out in the vast sea of digital content.
5. Meeting Deadlines
In the fast-paced digital landscape, meeting publishing deadlines is paramount. eBook ghostwriters are adept at managing their time efficiently, ensuring the timely delivery of your eBook. This punctuality is crucial for maintaining your reputation, capitalizing on market trends, and addressing your audience's needs promptly.
6. Flexibility and Customization
Each author has a unique voice, and that voice should resonate in their eBooks. Ghostwriters possess the ability to adapt their writing style to match your voice and preferences seamlessly. Collaborating with them allows you to tailor the eBook to your desired tone and message, resulting in a cohesive and authentic reading experience for your audience.
7. Confidentiality
The concern of ownership and confidentiality often arises when hiring an ebook ghostwriter. However, professional ghostwriters understand the significance of this concern. Through contractual agreements, they ensure that the content they create remains confidential and is rightfully credited to you. This ensures a harmonious partnership that respects both parties' interests.
What Makes Book Writing Cube The Ideal Choice For Ebook Ghostwriting Services?
Book Writing Cube has professional ebook ghostwriters who specialize in many genres and niches, ensuring that your ebook will be carefully created with the correct tone, style, and depth of information to fascinate readers. Recognising the individuality of each ebook project, we provide personalized solutions, working closely with clients to understand their vision and objectives, resulting in a final product that is ideally linked with the client's aspirations. Book Writing Cube focuses on the fast-paced world of publishing, with a track record of delivering high-quality ebooks on time. Our streamlined project management procedure ensures that projects are completed on schedule and ready for distribution. Meticulous research is the foundation of appealing ebooks, a notion that we steadfastly adhere to, undertaking extensive study to provide accurate, authentic content.
Conclusion
Hiring eBook ghostwriters offers a plethora of advantages that elevate your eBook creation process. From leveraging professional expertise and saving time to delivering high-quality, original, and timely content, the benefits are undeniable.
Are you prepared to take your eBook authoring to the next level? Explore the amazing services provided by Book Writing Cube, and discover a world of intriguing writing. Contact us now!