By BWC Team in 2023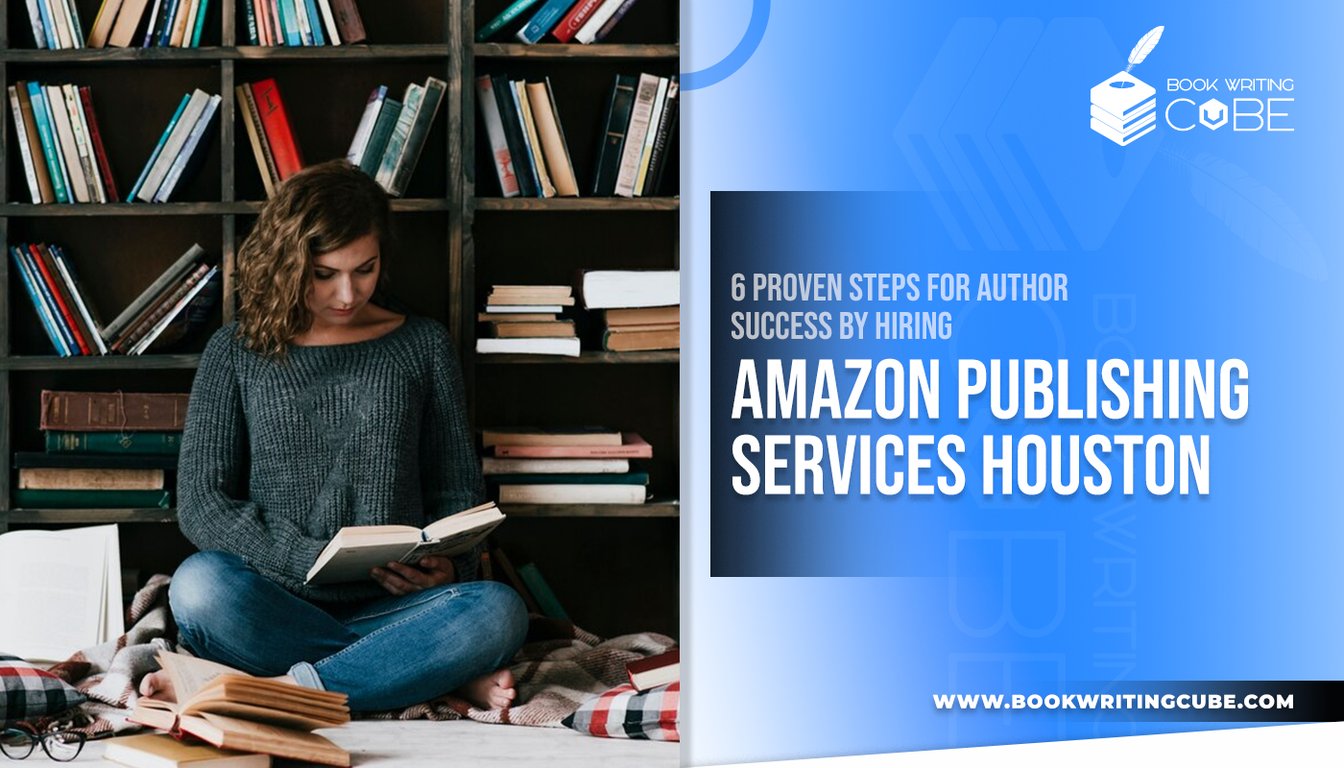 If you are a potential author, you have undoubtedly pondered about getting your writing published in front of thousands of readers. However, being a successful author can be a difficult and intimidating task, particularly when it comes to navigating the complex publishing industry. This is where Amazon Publishing Services Houston can really shine. You may use the largest online store in the world and reach an extensive base of prospective readers by employing these services. We will look at 6 tried-and-true methods in this blog that writers may use to succeed when using Amazon Publishing Services Houston. From writing a brilliant novel to grasping marketing and promotion, we will provide you all the resources you need to thrive in the cutthroat business.
Following are the different tactics and steps for author's success by hiring amazon publishing services Houston:
1- Craft A Captivating Amazon Book Description
A compelling book description is important for selling your book and can significantly impact the chances of closing a sale. Writing an effective and concise description can be challenging, but:
Here Are Some Tips To Help You Nail It:
When describing a fiction book, you should avoid giving away too much of the storyline and instead use language suited for the genre to convey the core of your work.
In non-fiction works, concentrate on how your work will help readers by resolving their problems.
Examine the synopses of very popular books in your category and attempt to replicate the style employed.
Refrain from including any material that is forbidden in your description, such as keyword stuffing or information that is time-sensitive.
Take some time to look up writers that are comparable to you on Amazon and note how their descriptions are structured. Utilize a few of their formatting strategies for your own description.
2- Choose The Right Book Keywords For Amazon
To publish your book on Amazon, it's important to understand the significance of keywords and categories. Amazon KDP allows you to select up to seven keywords that describe your book, which inform Amazon's search algorithm, making it easier for potential readers to find it. Therefore, selecting the right keywords is essential to increase your book's visibility on Amazon.
The following advice should be kept in mind while choosing profitable Amazon keywords:
Your keywords have to be truthful and pertinent to the subject matter of your book. It is plainly stated by Amazon that buyers would have a bad experience if they use any false terms.
Rather than utilizing single words as keywords, Amazon advises employing phrases of two to three words. A single keyword may include up to fifty characters (spaces included).
Keep in mind that seasonal variations occur in keyword trends, therefore schedule frequent keyword updates.
3- Select Ideal Amazon Book Categories
The Amazon self-publishing process requires careful selection of categories for your book, as these choices significantly impact its visibility and bestseller rankings. The limited number of categories for title creation necessitates thoughtful selection.
The following advice will assist you in selecting the appropriate categories for your book:
With more than 16,000 categories available on Amazon, spend some time finding the ones that are most appropriate for your book.
Take into account a variety of well-known and uncommon categories. While it's simpler to become a success in obscure categories, popular categories might help your book get more attention.
Find novels that are comparable to your own and note the categories in which they fit. This will help you choose which category your book belongs in.
Examine the quantity of recently published books in a category to determine its level of trendiness and the performance of books in that category to determine its potential for profitability.
4- Select Your Amazon Book Release Date
The Amazon self-publishing process involves selecting a release date for your book, preferably in the distant future, as it is important for the book's success and will be required for further progress.
Here are some items to think about while planning the publication date of your book:
Unfinished business: Make a list of everything that has to get done before releasing your book. Before you select a release date, be sure you've allowed enough time to finish them.
Buffer time: Allow additional time to handle unanticipated difficulties or delays. Putting your book out there may be a difficult process, so allow yourself some leeway.
Seasonality: Think about when it would be best to release your book, whether there are any particular periods of the year. Additionally, consider any occasions or dates you would like to coincide with the publication of your book.
Marketing: Before arranging your book launch date with Amazon self-publishing, make sure you have all promotional services verified if you're planning a marketing campaign. If you don't, the initial momentum of your novel may suffer.
5- Submit Your Manuscript And Book Cover
To upload your book content to Amazon self-publishing, you need to have your cover manuscript ready. KDP will process your file to meet formatting requirements and ensure spelling errors are free. Click on "Upload eBook Manuscript" and allow 5-10 minutes for analysis. Uploading your cover is similar to Amazon self-publishing, but it's advisable to avoid using KDP's Cover Creator tool as it's the first thing readers notice about your book.
When you upload your cover and manuscript, bear the following items in mind:
Select a cover design that works well both as a full-size image and as a tiny thumbnail.
Your book's category or tone should be immediately apparent from the cover.
Even if you cannot make a passable do-it-yourself book cover, hiring an expert book cover designer such as Book Writing Cube is typically worth it.
6- Price Your Book Effectively On Amazon
Amazon self-publishing offers two pricing options: 35% and 70%. The 70% plan is available for books selling between $2.99 and $9.99, while the 35% plan is available for those selling between $2.99 and $9.99. To forecast earnings, use Amazon's Book Royalties Calculator. After selecting a plan, specify your book's price in the box, and KDP will calculate your royalty for each sale. Earnings are displayed for other currencies and marketplaces.
Key Takeaways
Amazon Publishing Services Texas offers a comprehensive approach to author success, covering six key steps: crafting book descriptions, optimizing keywords, selecting categories, setting release dates, and handling manuscript uploads. Their dedicated team ensures a smooth journey through Amazon publishing, providing a powerful ally on the author's journey.
Hiring Book Writing Cube allows your words to shine on Amazon's platform, ensuring your literary triumph. Sign up today!