Do you have a story to share but are unsure how to get readers interested? Creating an enticing blurb for your book can be the key to attracting potential buyers.
This blog post will provide practical tips and tricks on writing a book blurb that intrigues readers and encourages them to dive deeper into your creation. By combining elements such as creativity, strong language choices, and content-relevant themes, you'll learn exactly how to create a magnetizing blurb that genuinely reflects your work's essence. So, stay tuned!
Understanding the Purpose of a Book Blurb
A book blurb is a brief book description that serves to introduce the reader to the story. It's typically short and should include critical elements such as the title, author, genre, setting, plot points, protagonist/antagonist characters, and main themes.
By reading it, potential readers can quickly scan the basics of a book and decide if they would be interested in reading more. Blurbs are often featured on book jackets, websites, or online marketplaces such as Amazon for captivating readers.
In addition to giving readers a sense of what the story is about, a compelling book blurb can also be helpful for writers as a way to crystallize the main points of their story concisely.
The Magic of Crafting an Attention-Grabbing Book Blurb
We all know the feeling. You're scrolling through Amazon, looking for your next great read. Your finger hovers over the "buy" button, but you can't seem to pull the trigger. Why? Because the book's blurb didn't quite do it for you. It happens to the best of us. But crafting a powerful book blurb that truly grabs attention and drives home the essence of your story is definitely within reach.
Here are five secrets to crafting a magnetizing book blurb that sells your story: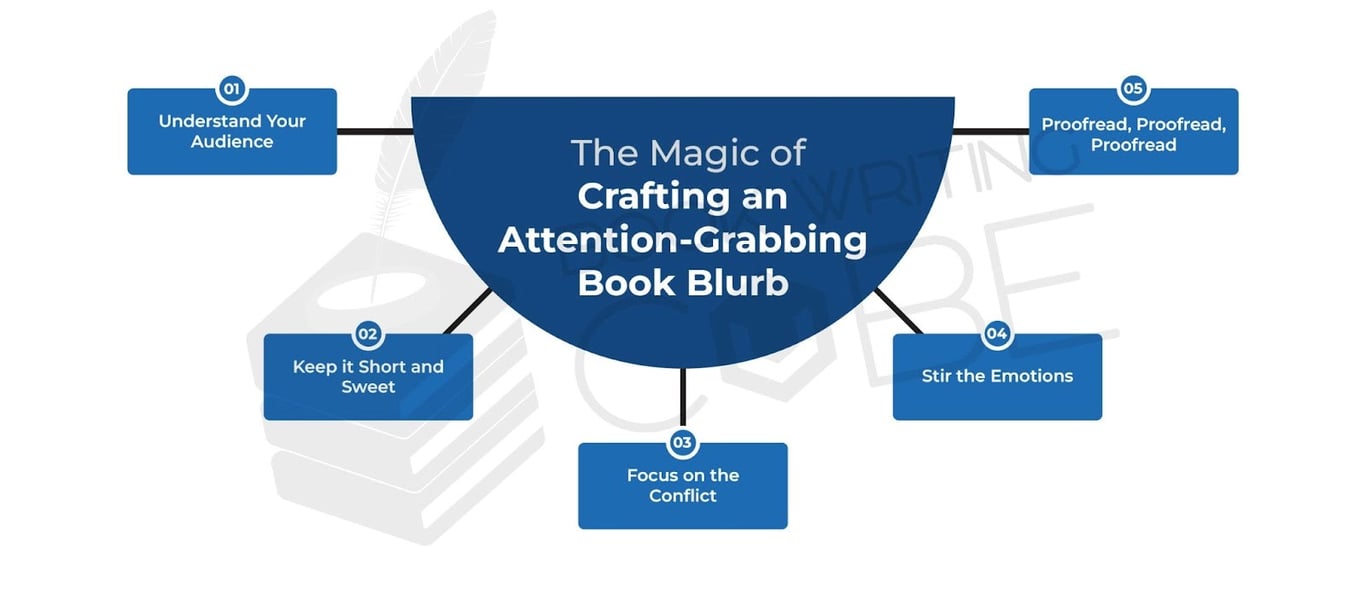 1.
Understand Your Audience
It may sound obvious, but understanding who your book is written for will help you craft a more effective blurb. A book blurb writing service considers what your readers are looking for in a book and how your writing can provide them with it.
2.
Keep it Short and Sweet
It should be concise and to the point; after all, you don't want to give away too much of the story. Book writers should aim for a concise blurb that captures the book's essence and keeps readers wanting more.
3.
Focus on the Conflict
A great book blurb should have a conflict or tension at its core; this will draw readers in and make them want to know what happens next. A book blurb writer often avoids long-winded descriptions but instead crafts a sharp sentence or two that captures the conflict.
4.
Stir the Emotions
A blurb should appeal to readers on an emotional level, not just a rational one. Think about what emotions your book brings in and use this to engage potential readers.
5.
Proofread, Proofread, Proofread
Last but certainly not least, remember to proofread your blurb before publishing. If it's full of typos and grammar mistakes, chances are readers won't bother reading the rest of it. Make sure you hire book writing services to have them look it over for a fresh set of eyes.
These secrets can help you perfect the tone and style of your blurb and assist in boosting Amazon KDP book sales.
In Closing
Through the tips laid out, you should be well on your way to creating a book blurb that succeeds in selling your story and establishes your talent as a writer. Knowing these secrets to formulating an attention-grabbing and compelling blurb will help you make the most of it in your book's marketing.
Furthermore, this process is just one of the many tactics you can use to market a book, and mastering each is essential to a successful career in writing. Ultimately, with practice, patience, and some expert knowledge, you can become an expert at crafting magnetic and captivating blurbs that draw readers in.
That said, if you need help with other marketing endeavors, you can enlist the help of a top book marketing company such as Book Writing Cube. Our professionals can develop an effective book marketing strategy to ensure your work is recognized.