It's no secret that self-publishing has come a long way in recent years. Once upon a time, self-publishing was considered the black sheep of the publishing industry. These days, however, it's a viable option for many authors. In fact, some say it's the wave of the future.
If you're considering self-publishing your book, you may wonder if you should go with a traditional publisher or an Amazon KDP Publishing service. Here are five reasons to consider going with Amazon: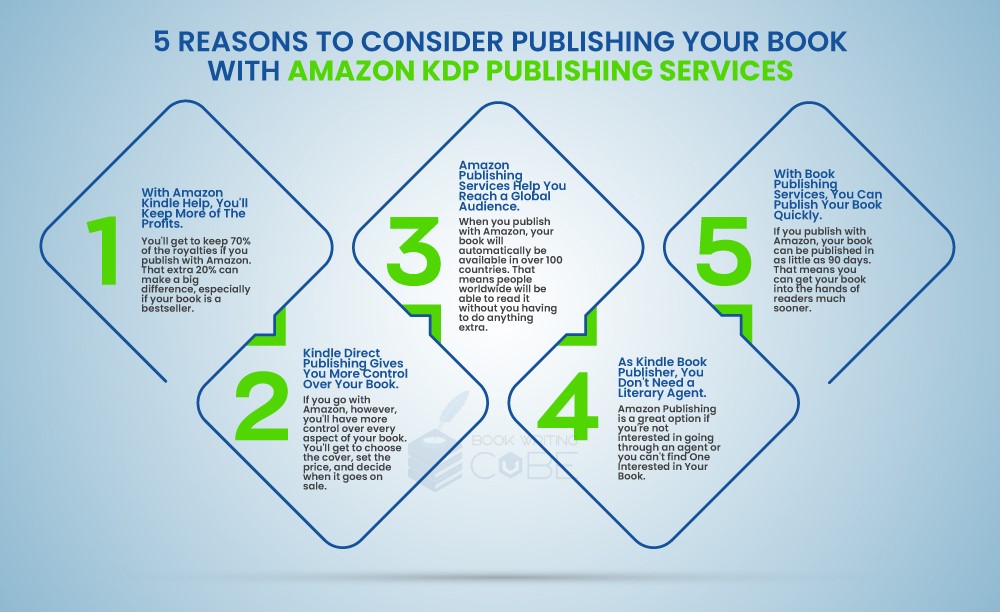 1. With Amazon Kindle Help, You'll Keep More of The Profits.
When you publish your book with a traditional publisher, they will take a cut of the profits. How much they take depends on the publisher, but it's typically around 50%. That means you'll only get to keep half of the money your book earns.
However, if you publish with Amazon KDP Publishing, you'll get to keep 70% of the royalties. That extra 20% can make a big difference, especially if your book is a bestseller.
When you publish with a traditional publisher, they will have a say in how your book is marketed and what the cover looks like. They may even insist on changes to your manuscript.
If you go with Amazon, however, you'll have more control over every aspect of your book. You'll get to choose the cover, set the price, and decide when it goes on sale. You'll also be able to update your book whenever you want without going through a publisher.
If you publish with a traditional publisher, your book will only be available in certain countries. If you want people in other countries to be able to read your book, you'll have to go through the process of getting it translated and published in those countries, which can be time-consuming and expensive.
However, when you publish with Amazon, your book will automatically be available in over 100 countries. That means people worldwide will be able to read it without you having to do anything extra.
If you want to publish with a traditional publisher, you typically must go through a literary agent. That's because most publishers only work with agents.
Amazon KDP Publishing is a great option if you're not interested in going through an agent or you can't find one interested in your book. You can submit your manuscript directly to Amazon without needing an agent.
It can take months or even years to get your book onto shelves if you publish with a traditional publisher. The entire process can take a while, from finding a book publishing services agent to getting the book published.
However, if you publish with Amazon self-publishing services, your book can be published in as little as 90 days. That means you can get your book into the hands of readers much sooner.
These are just a few of the reasons to consider publishing your book with Amazon. If you're thinking about Amazon self publishing, KDP is definitely worth considering.
Congratulations on taking the first step toward publishing your book with book publishing services! This blog post will outline the process of publishing your book with Amazon from start to finish.
Before we begin, we want to mention that Amazon offers two different ways to publish your book: their Kindle Direct Publishing (KDP) platform or their CreateSpace self-publishing services. For the purposes of this blog post, we'll be focusing on the KDP platform.
Now that we've got that out of the way let's get started!
Steps Involved in Publishing Your Book
The first step in publishing your book with Amazon is to create an account on their KDP self publishing platform. Once done, you'll need to upload your book manuscript as a PDF file.
After you've uploaded your manuscript, you'll need to select a cover for your book. You can either upload your own cover design or choose from a selection of premade covers provided by Amazon.
Once you've selected self publishing paperback books, you'll need to select a price for your book. For eBooks, you can choose to price your book anywhere from $2.99 to $9.99. You'll need to set a price for print books based on the number of pages in your book and the printing costs associated with that number of pages.
After you've set a price for your book, you'll need to create a description for it. This is where you'll tell potential readers why they should buy your book. Ensure to include keywords that people might search for when looking for a book like yours.
After you've created a description for your book, you'll need to set up some additional information, such as your author bio, categories, and keywords. This will help potential readers find your book when they're searching for something specific.
Finally, you'll need to decide whether or not you want to enroll your book in Amazon's Kindle Unlimited program. This subscription service allows readers to read an unlimited number of eBooks for a monthly fee. If you enroll your book in this program, you'll earn royalties based on the number of pages that are read by subscribers.
Once you've completed all of the steps above, you can hit the publish button, and your book will go live on Amazon! Congratulations, you're now a published author!
We hope this blog post has been helpful in outlining the process of publishing your book with Amazon. If you have any questions, please feel free to leave Book Writing Cube a comment, and we'll be happy to help.
Whether you're a self-published author or have an agent, working with book marketing and book editing Services can be a powerful way to help you achieve your goals. However, if you're planning on using these services, you'll need to understand what to expect. You may have questions about what these companies can do for you and how much they'll charge.
You'll find that book marketing services can help you run adverts for your book and can even collaborate on an ad campaign. They'll also be able to help you expand your social media profiles. These companies will also give you tips on improving your book's visibility and using stronger keywords to promote it. You'll also find that they'll research Amazon listings for your book.
Depending on your needs, you'll find that some book marketing services will be able to work with your book on a one-off basis, while others will offer a more comprehensive game plan. You'll also find that these services vary in quality. You'll need to pay thousands of dollars monthly if you want a company that can handle all aspects of your promotion. In addition, you'll need to ensure that the company has a solid return on investment for you.
For publishing on Amazon, one of the first things you'll need to do is define your ideal reader. This audience can be anyone interested in your books, such as social media followers, email subscribers, and other people in your community. You'll also want to consider your target market, which is people who are similar to your ideal reader. This list of potential readers can help you determine the best ways to reach them.
Once you've determined your ideal reader, you can begin marketing your book. This can be done in many ways, but one of the most effective methods is establishing a list of fans. The more fans you have, the more likely you'll be able to sell your book. You'll want to keep this list updated and share news about your upcoming book promotions. You can also try writing an eBook for Amazon and reaching out to influencers in your niche.
The best online book publishers want to see a strong social media following. You can also try reaching out to your friends and family members. You may also need to establish a basic website before publishing on Amazon. It's important to be honest with yourself and respect the people who buy your book and the people who write reviews. If you're a self-published author, you may need to hire a designer and set up a basic author website.
If you're looking for more than the basic elements, you'll have to make a new agreement with your book marketing service. This could cost you a lot of money, especially if you're planning on hiring a company to handle all of your book's promotion.
How To Sell on Amazon KDP? Process Defined.
Amazon self-publishing program also offers marketing tools to help authors sell their books on the site. These include an ad tool and a variety of market options. Some markets limit the type of ads they can run.
Authors have the option to join the Kindle Direct Publishing Select program, which provides exclusive sales on Amazon. Select titles are also eligible for free pricing. Selecting the program also helps authors earn more money.
KDP self publishing also provides access to publishing tutorials and tools. These include a cover creator, which lets authors create an eye-catching book cover. They also have a royalty calculator to help authors estimate the percentage of their sales.
Final Thoughts!
Getting your book published is a big deal. You get your name out there, build a reputation, and get paid to boot. And, if you are a self-published author, you get to retain the rights to your work. But before you jump into publishing your book, it's important to ensure you're doing it right.
The best way to do this is by hiring a kindle formatting services agency, Book Writing Cube. We will not only make your book look professional, but we will also pay for ourselves in the long run. But don't just take our word for it; make sure to check out our reviews.