By BWC Team in 2023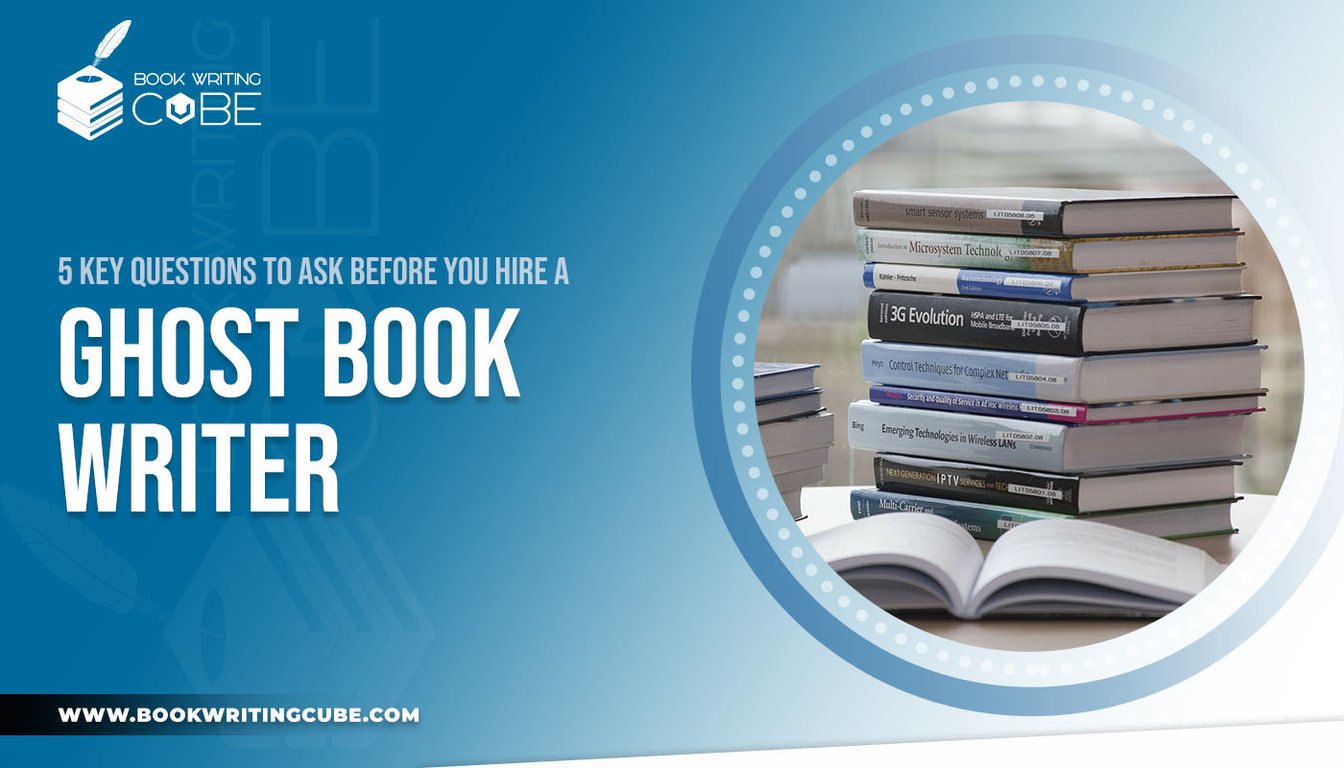 Hiring a ghost book writer can be a metamorphic experience for authors. It is the breakout to turning your ideas, stories, and knowledge into a beautifully written book that fascinates readers. However, choosing the right ghostwriter is important for the success of your project.
It's not just about finding someone with writing skills; it's about finding a ghost book writer who can bring your vision to life. To ensure a harmonious partnership and a successful outcome, you need to ask some key questions before you begin.
So, let's set the stage for a successful collaboration by diving into these essential questions:
Question 1: What Is Their Experience As A Ghost Book Writer?
Experience is often the best indicator of a ghost book writer's ability to tackle a ghostwriting project. You want someone who knows the ins and outs of drafting a book, from brainstorming ideas to polishing the final draft. Assess the writer's background and expertise to ensure they're the right fit for your project.
Ghostwriting is a unique skill set. It requires not only writing prowess but also the ability to adapt to different voices and styles. An experienced ghost book writer can seamlessly transition between genres and capture your voice authentically.
Question 2: Can A Ghost Book Writer Share Samples of Their Previous Work?
To truly understand a ghostwriter's capabilities, you need to see their work in action. Requesting and evaluating writing samples is an excellent way to gauge their style and versatility. It will give you a sense of whether they can adapt to your project's specific needs.
Every ghost book writer has a unique voice and style, so it's important to ensure their writing aligns with your vision for the book. The right ghostwriter should be able to match your tone and effectively communicate your ideas.
Question 3: How Do They Approach Research for a Project?
Research is the backbone of any book, whether it's fiction or nonfiction. Ghostwriters need to gather information, fact-check, and ensure that your book is well-grounded in reality. Understanding the writer's research methods is vital to ensure they can meet your expectations.
Effective research is not just about finding information; it's about finding the right information. Your ghost book writer should be skilled in discerning credible sources and weaving that knowledge seamlessly into your narrative.
Question 4: What Is Their Process for Collaborating with Clients?
Effective communication is the cornerstone of a successful ghostwriting partnership. You need to establish clear channels for feedback, updates, and questions. Define the roles and responsibilities for both you and the writer to ensure a smooth working relationship.
Collaboration is a two-way street. You'll need to share your ideas, provide feedback, and be actively engaged in the creative process. A good ghostwriter should be open to your input and willing to incorporate your vision into the project.
Question 5: What Is Their Pricing Structure?
Discussing payment terms and fees is an important aspect of hiring a ghost book writer. While quality writing is an investment, it's essential to navigate potential budget constraints. Transparency in pricing helps you avoid unexpected financial hurdles along the way.
Ghostwriting fees can vary widely depending on the writer's experience, the complexity of the project, and the market. Make sure you're comfortable with the pricing structure and that it aligns with your budget.
Key Takeaways
Hiring a ghost book writer is a significant step towards something good. By asking these five key questions, you can ensure that you are choosing the right ghost book writer for your project. Thoroughly vetting your ghostwriter before you begin will set the stage for a successful and rewarding partnership. Remember, it's not just about finding a writer; it's about finding the perfect partner to help you tell your story. Feel free to ask your questions and start your writing adventure with confidence.
Your book needs to be written, and Book Writing Cube, being the leading ghost book writers are ready to assist you. Call us now!